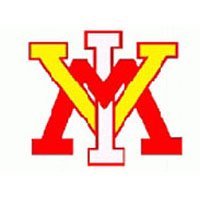 Playing in a steady downpour that at one point caused a lengthy weather delay, the top-seeded Samford Bulldogs scored three times in the first half and went on to a 3-0 win over the #9 VMI Keydets in the quarterfinals of the 2015 SoCon Women's Soccer Championship, contested Saturday night in Birmingham, Ala. With the win, Samford (14-5) advances to the tournament semifinals next week and VMI's (6-13-2) season comes to an end.
The Bulldogs struck first before the weather delay. Anna Allen rifled her first goal of the season in from a lengthy 35 yards out, putting the home team ahead in the 19th minute, and shortly after a weather delay of one hour, 24 minutes, the Bulldogs added on in the 29th minute as well. A 40th minute goal would account for the final margin.
Head coach Chris Bergmann made two changes to his starting lineup against the top-seeded Bulldogs, starting traditional reserves Sam Boney and Demetra Protogyrou. It appeared to be the right move, as the game was evenly played early. Both teams had two shots in the early rain, with the Keydets having tries from Amy Horney and Olivia Cotton go wide in the first 17:19.
After Darien Dunham had her first save of the match at 17:59, Allen put Samford ahead just 36 seconds later. The Bulldogs seemed to step up the pressure from there, testing Dunham three times and hitting the crossbar on an additional attempt over the next five-plus minutes before the weather delay.
Once the skies partially cleared, the home team added on in the 29th minute. A shot attempt by Malcanisha Kelley's shot attempt slipped through the hands of Dunham and Sara Smeltzer tipped in the resultant loose ball, pushing the margin to 2-0.
Kelley added on in the 40th minute to account for all the scoring in the match. The Keydets had a flurry early in the second half, testing Samford keeper Katie Peters three times in 5:57 of game action, but could not find the scoreboard themselves as the Bulldogs won 3-0.
Peters and starting keeper Anna Maddox combined for three saves for Samford, while the Bulldogs held a 22-8 edge in shots on the evening and a 7-2 edge in corner kicks.
Dunham was credited with six saves to move to 138 on the year, breaking the Institute single-season record that had stood since the program's second year of existence. The team's six victories were the third-most in program history and the most since 2009.