Sports
Women's Basketball: Virginia, again, can't close out double-digit fourth-quarter lead in L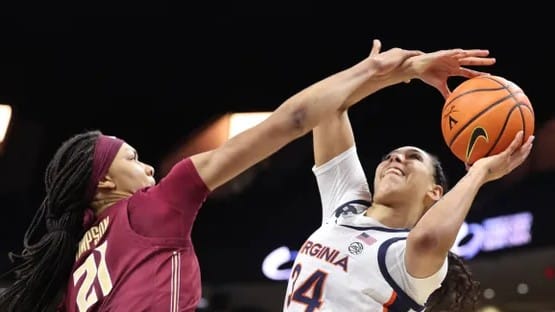 Virginia led by 10 entering the fourth quarter, but Florida State dominated the final 10 minutes en route to a 77-68 win over the 'Hoos on Thursday in Charlottesville.
It was the second loss in three games for UVA (14-5, 3-5 ACC) blowing a double-digit fourth-quarter lead at home.
"I think we have to take care of some of the self-inflicted errors," Virginia coach Amaka Agugua-Hamilton said.
Florida State (17-4, 6-2 ACC) led 38-37 at the half, but Virginia switched to a zone defense that shut down the Seminoles' inside scoring game, and Florida State went cold from the field, making just three of 17 field goal attempts during the period, including a stretch of 12 consecutive misses over a six-minute span.
UVA took advantage of Florida State's poor shooting to go on a 17-1 run and led 60-47 before FSU's O'Mariah Gordon's three-point shot with nine seconds left in the quarter.
After Camryn Taylor made a layup to put the Cavaliers up 62-50, UVA did not score again for six minutes, allowing the Seminoles to reel off 18 unanswered points.
A pair of free throws by McKenna Dale closed the gap to 68-64 with 3:24 to play, but six straight points by FSU senior guard Sara Bejedi put the game out of reach over the next two minutes.
UVA finished the contest making just one of 14 shots from the field, which came when Taylor grabbed an offensive rebound and scored in close with just 22 seconds left to play.
The game had a long delay prior to Dale's free throws when Sam Brunelle was tangled by Bejedi on UVA's offensive end of the court. Following a video review, the game officials issued a fighting foul to Brunelle when she attempted to become untangled with the Seminoles guard, who had locked legs with her while lying on the court.
Brunelle was ejected from the game following the ruling.
Camryn Taylor led all scorers with 18 points, while Brunelle and London Clarkson added 11 points each for Virginia.
Florida State's Ta'Niya Latson and Bejedi topped the Seminoles with 15 points apiece. Latson came into the contest as the ACC's top scorer, averaging 24.3 points per contest.