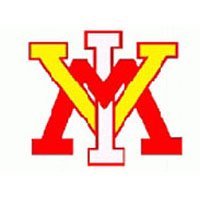 The VMI Keydets got 24 points from QJ Peterson and led wire to wire en route to an 88-76 win over the Tusculum College Pioneers Tuesday night at Cameron Hall in Lexington, Va. It was VMI's ninth straight win in a home opener, and the first victory as a collegiate coach for VMI head coach Dan Earl.
The game was never in doubt on a cool, clear evening in Lexington, as the Keydets (1-1) took a double-digit lead at the 14:13 mark of the first half and never looked back en route to 58 first-half points and the victory.
In addition to Peterson, the Keydets got 16 points from Julian Eleby and 12 from Phillip Anglade. Trey Chapman had a career-high nine rebounds as well.
Tusculum (1-1), who counted the game as an exhibition on its schedule, was led by Javon Price's 18 points.
After taking that double-digit lead early, the Keydets gradually stretched that advantage, going up by 23 on a Peterson dunk at the 5:24mark. TC closed to within 16, but VMI closed on a 13-0 run that included six points by Fred Iruafemi and took a 58-29 lead into the locker room.
It was more of the same early in the second half, as VMI stretched its advantage to a game-high 35 with 17 minutes to go, 68-33, after a basket by Eleby. The Keydets continued to lead by 30 until two TC points with 11:53 to go, and the Pioneers scored 24 of the game's final 33 points against Keydet reserves to pull closer and account for the final margin.
The Keydets finished the game shooting 31 of 54 overall (57.4%) and 10 of 23 (43.5%) from three-point range. VMI made 16 of its 21 free throws for a 76.2% clip.
Tusculum was 24 of 59 overall (40.7%) and 7 of 18 (38.9%) from long range, but the Pioneers made 6 of their 8 three-point attempts in the second-half to close the gap in their eventual loss.
VMI basketball will return to action Saturday, when the Keydets travel to Blacksburg to take on the Virginia Tech Hokies. Tip time is set for 7 p.m.
Quotes – VMI Head Coach Dan Earl
"We played with a lot of energy and I thought we were dialed in and ready to go defensively. We also really shared the ball well offensively. I thought we got good looks for the most part throughout the first half. We didn't close it out the way I'd like, but I thought the guys gave great effort."
"QJ Peterson was able to knock down a couple of shots and get into a rhythm. He's a shooter, a scorer and can make shots. He can also do a variety of other things and one of them is setting up teammates. He has to continue to do a good job with that."
"We have a lot to learn. We watched a lot of film after the Penn State game and responded well in the first half tonight. We'll watch this film and talk about how we could have done better things tonight. I expect us to be prepared and ready to go against Virginia Tech."