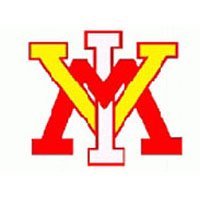 The Presbyterian College Blue Hose put the tying and go-ahead runs on base in the ninth inning, but Jonathan Kelley retired Brandon Paul to end the game as the VMI Keydets posted a 5-4 victory in Big South baseball action Sunday at Gray-Minor Stadium. With the win, the Keydets completed the series sweep, their first of a conference series since the 2012 season.
After PC (10-14-1, 3-3 Big South) had cut the VMI (13-9, 4-2 Big South) lead to 5-4 in the seventh, Jay Lizanich singled with one out in the ninth. Kelley struck out Weston Jackson, but Brad Zebedis followed with a single to put runners at the corners. Kelley, however, induced Paul to hit a 1-1 pitch on a line to center fielder Will Malbon, who made the catch to preserve the Keydet win and the series sweep.
The victory, VMI's fourth straight overall and third one-run victory in its past four games, was credited to starter Andrew Woods (4-0), who scattered eight baserunners over six innings. Woods allowed two runs on three hits, walking five and striking out three. Kelley picked up his first career save while allowing two hits in 1 2/3 innings, while Aaron Lesiak, the PC starter, dropped to 0-2 after lasting just 2 1/3 innings.
At the plate, Eric Mayers continued his torrid weekend by going 2 for 4 with a run scored to improve to 7 for 10 in the series. Cameron Walter added two hits as well, while Lizanich and Zebedis notched two hits apiece for PC.
VMI took the lead in the second inning, when Will Connerley led off with a walk. Josh Worthley was hit by a pitch and Matt Winn attempted to put down a sacrifice bunt, but the ball rolled on to the first base foul line and stayed there for a single to load the bases. Tanner Dofflemyer grounded into a force play at the plate, but Jordan Tarsovich drove in a run with a walk to give the Keydets a 1-0 lead.
PC tied the game in the third, after a Brandon Martin double, a sacrifice bunt and a Nate Chong sacrifice fly made it 1-1. The tie was short lived, however, as the Keydets struck for three in the third. Mayers led off with a double down the left field line and Walter followed with a RBI single, making it 2-1, VMI. After a fielder's choice groundout, Connerley singled and Worthley did as well, plating David Geary for a 3-1 VMI lead. Connerley then scored on a balk to push the margin to three, 4-1.
The Keydets added a crucial run in the fifth in a strange frame. Walter led off with a single and advanced on an error by Paul. He then moved to third on a passed ball, prompting the PC infield to come in. Two infield outs later, Gary LeClair pinch-hit for Worthley and seemingly grounded out, but the home plate umpire waved off the out and called catcher's interference to put two runners on. Winn then hit a ground ball behind second base that the PC infield could not record an out on, allowing Walter to score for a 5-1 Keydet lead.
The Blue Hose rallied in the seventh, when Jacob Midkiff led off with a single. Campbell Henkel relieved Woods and induced a fielder's choice groundout, but after a wild pitch and a walk, Chong doubled home a run to make it 5-2, VMI. Taylor Edens came out of the bullpen and Lizanich blooped a single to left, cutting the lead to two, and a sacrifice fly by Jackson made it 5-4, Keydets. Zebedis followed with a single, but Berkley Hawkins got Paul to fly out to right field to end the threat.
Kelley then recorded the final two outs of the eighth with the tying run in scoring position and closed out the game in the ninth for VMI's fourth straight win.
VMI baseball is scheduled to return to action Tuesday, facing William & Mary in Williamsburg. Game time is scheduled for 7 p.m.