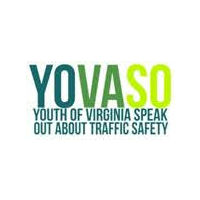 More than 120 teens representing 37 high and middle schools from across the commonwealth will be arriving at James Madison University Monday for a week of educational and hands-on activities that focus on safe driving practices and the importance of making responsible decisions while driving. The 2018 Summer Leadership Retreat is sponsored by Youth of Virginia Speak Out About Traffic Safety, a program of the Virginia State Police.
The annual leadership retreat is being held on the JMU campus in Harrisonburg, Va., from June 18 through June 21.
Retreat participants, including students and their YOVASO club advisors, will spend the week learning about how to reduce crash risks, studying negative consequences of poor driving behaviors, and training to serve as youth traffic safety advocates. Participants will use the information to work in peer-to-peer programs in the schools to promote safe teen driving and help prevent motor vehicle crashes among teens. A total of 170 students and adult leaders are registered to attend.
Highlights and new features for the retreat include presentations on the emerging issue of drug impaired driving; Mallory's Movement, a family's journey of ongoing recovery from a crash that injured their young daughter; and in partnership with State Farm, the StreetSafe Lifesaving Driving Experience, a behind-the-wheel driving exercise and interactive program to teach young drivers defensive driving skills.
"As the largest automobile insurer in the U.S., we see every day the dreadful toll teen crashes can take on families," explains Kate Beadle, State Farm spokesperson. "State Farm is strongly committed to doing everything we can to reduce these tragedies. We are proud to support YOVASO with grant funding to help prevent motor vehicle crashes."
During the week, students will participate in interactive safety sessions by the American Trucking Association, the Virginia Department of Transportation, VSP's motorcycle safety and distracted driving programs, and UNITE's Arrive Alive Tour program which uses a high-tech simulator, and impact video to educate teenagers about the dangers of texting and driving and impaired driving.  Students will also participate in a variety of interactive, team-building events, to include a trivia night, talent show, annual glow stick game, and the Amazing Race, "Superhero" style.
"The annual retreat provides students a unique opportunity to learn safe driving and passenger safety skills in a fun and interactive environment," explains Mary King, YOVASO"s Program Manager. "It also prepares them for the important task of leading peer-to-peer traffic safety programs in their communities in order to combat crashes and fatalities among this high-risk age group. Our goal is to prepare our young leaders to help influence a safe driving culture."
The four-day, three-night retreat concludes with an awards banquet to recognize students, schools, administrators, law enforcement, and business partners for their dedicated and outstanding efforts during the 2017-2018 school year to prevent teen-related traffic crashes and fatalities on Virginia highways.
The retreat is sponsored by YOVASO, VSP, and the Virginia Department of Motor Vehicles Highway Safety Office in partnership with State Farm Insurance and the Virginia Department of Behavioral Health and Developmental Services. YOVASO is Virginia's Peer-to-Peer Education and Prevention Program for Teen Driver and Passenger Safety. Membership in YOVASO is free and open to all Virginia high schools, middle schools, and youth groups. YOVASO currently has 100 active member schools.
Virginia Schools Represented at YOVASO Retreat
Amherst County High School, Amherst Co.
Bluestone High School, Mecklenburg Co.
Brooke Point High School, Stafford Co.
Central Academy Middle School, Botetourt Co.
Cosby High School, Chesterfield Co.
E.C. Glass High School, Lynchburg City
Edward E. Drew Middle School, Stafford Co.
Faith Baptist School, Spotsylvania Co.
Forest Middle School, Bedford Co.
Grafton High School, York Co.
Granby High School, Norfolk City
Halifax County High School, Halifax Co.
Heritage High School, Lynchburg City
James River High School, Botetourt Co.
Jefferson Forest High School, Bedford Co.
Kecoughtan High School, Hampton City
Loyd C. Bird High School, Chesterfield Co.
Liberty High School, Bedford Co.
Louisa County High School, Louisa Co.
Manchester High School, Chesterfield Co.
Midlothian High School, Chesterfield Co.
Monacan High School, Chesterfield Co.
Mountain View High School, Stafford Co.
Northside High School, Roanoke Co.
Park View High School, Mecklenburg Co.
Park View Middle School, Mecklenburg Co.
Randolph-Henry High School, Charlotte Co.
Patrick Henry High School, Roanoke City
Robert E. Lee High School, Staunton City
Robinson High School, Fairfax Co.
Rowan County High School, Kentucky
Salem High School, Salem City
Staunton River High School, Bedford Co.
Staunton River Middle School, Bedford Co.
Stuarts Draft High School, Augusta Co.
William Byrd High School, Roanoke Co.
William Fleming High School, Roanoke City