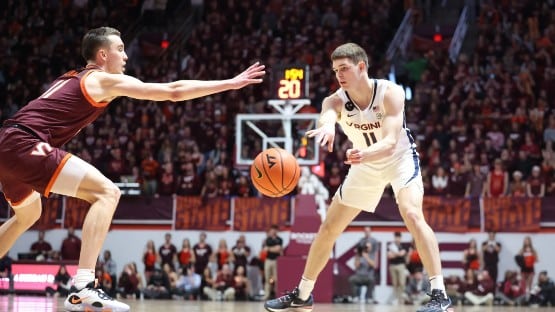 Hokies flip the script on defense
Virginia Tech allowed #23 Miami to shoot 58.3 percent in the 92-83 win in Coral Gables on Tuesday, the Hokies' eighth loss in 10 games.
"Miami is unbelievable. Their ball movement with (Isaiah) Wong and Nigel Pack, it's like watching a video game," Tech coach Mike Young said. "But that was absurd, and it's just not what we have put together here in four years. It's not who we are, and it's unacceptable. Not going to give you the out that Miami has that talent offensively. They are, I think, metrics, which you know, I don't care anything about, number 10 in the country, and I think that's probably accurate."
The glaring issue for Tech, not just in the loss at Miami, but for the past several weeks, has been its inability to get stops on any kind of consistent basis.
ACC opponents were scoring 1.070 points per possession in conference games with the Hokies heading into Saturday.
Virginia still scored 1.079 points per possession in the 74-68 Hokies' win, but what Tech was able to do defensively was the difference.
Virginia shot just 41.0 percent, was just 6-of-18 from three-point range, and though the Cavaliers were able to get into the lane and to the rim consistently, getting 27 shots at the rim on the day, they made just 15, because Tech defenders were there to provide resistance.
Young credited his guys for working hard in practice this week to address what they needed to on the defensive end.
"Just high-character people. No, no pouting. Just back to practice the next day," he said of his team's response to the poor performance in the loss at Miami.
"Yeah, we got Virginia coming in. Yes, in-state and all that stuff. We've got an opportunity to play another really, really good opponent, we got a chance to play Virginia Tech basketball and fight and compete and adhere to the things that are important to us. And we did that, by and large, on both ends of the floor."
Another big day for Justyn Mutts
Sixth-year senior Justyn Mutts had a Justyn Mutts day in the win – 17 points on 7-of-11 shooting and eight assists in 38 minutes.
He was one of four Hokies in double figures, a group that included Sean Pedulla going off for 22, but it was Mutts that was the troublemaker.
"I'm always anxious to see how Coach Bennett handles it, because (Mutts) is such a great passer, but as you saw a couple of times, when you don't go get him, and he's got a favorable matchup, he can just root his way back into the charge circle and get up over whoever it is," Young said.
"Now you go get him, and we're going to put them in places, we got pressure on the rim, you got to take care of that, throw it to the backside, and we're planning to on one out of that. Easier said than done when you're playing the Cavaliers, they are so incredibly well-schooled," Young said.
Climbing out of the abyss
The win gets Virginia Tech back to 4-8 in ACC play and 14-9 overall.
The Hokies also jumped five spots in the NET rankings, to 52, with the Quad 1 win.
There may not be many more opportunities for Quad 1 wins – Tech is now 3-5 in Quad 1 games.
The only other game that would be a Quad 1 matchup on the schedule now would be the rematch with Duke in Durham on Feb. 25.
This is why Saturday was an absolute must-win for Virginia Tech in terms of its NCAA Tournament bid hopes after the recent 2-8 stretch.
"We're trying to make it back from the abyss. That's a step ahead," Young said. "We've got a ways to go, but yes, the term was the abyss, and we were there. Let's hope that we can continue to move in a positive direction."