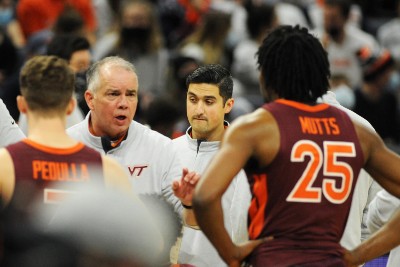 Virginia Tech's 92-83 loss at #23 Miami wasn't "fatal," coach Mike Young said after the game, in terms of the Hokies' postseason hopes, but time is getting short.
"The clock is ticking for us," said Young, whose team dropped to 13-9 overall and 3-8 in the ACC with the setback.
The team's 10-1 showing in non-conference play and its two Quad 1 wins – over Duke and Oklahoma State – still have Tech in decent shape in terms of the metrics.
Virginia Tech is 55th in the updated NET and 47th in the RPI, indications that if the Hokies are able to get things back on track in their final nine regular-season games, they have a fighting chance to get back on the NCAA Tournament invite bubble.
The work could start this weekend with fourth-ranked Virginia coming to Blacksburg, giving Tech a chance at a third Q1 win.
"We've got nine more of these teeth-gnashers," Young said. "We've got to get on a stick here. I do have a good bunch. We have been on a bit of a bumpy ride, but I like, you know, I like our team a lot. But we've got to be tougher, better than that on the on the road."
The issue in the loss at Miami was defense, specifically, the lack thereof. The Hurricanes shot 58.3 percent from the field on the night, including an eye-popping 20-of-26 on shots at the rim – layups and dunks.
UM didn't start getting hot from the perimeter until late, and the hot streak was all one guy, Nijel Pack, who took only one shot from the floor until sinking a three at the 7:35 mark that tied the score at 68-68.
Pack would go on to score 17 points over a 5:07 stretch, connecting on five threes and a driving layup.
At the end of the hot stretch, Miami was up eight with 2:24 to go.
"Well, we're not going to outscore them, alright, we're not," Young said. "When it was, you know, 33-32, I said that very thing. If you think we're going to outscore them, you're dead wrong, it ain't happening. This thing's in the 90s. We talked about it all week in our leadup. If you think we're going to outscore them, very few teams can do that."