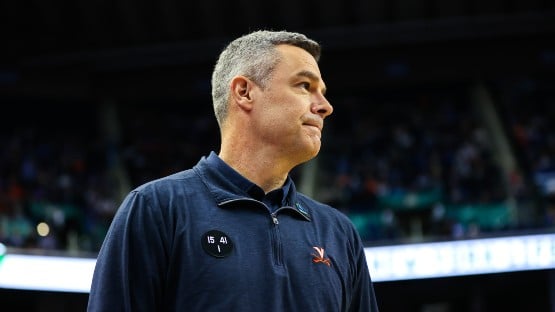 Jon Scheyer has Duke playing D
I overheard something funny in the bathroom just after Duke's 59-49 win over Virginia in the ACC Tournament championship game on Saturday.
One Duke fan to another: "Man, watching Virginia play, they're pathetic."
Oblivious to how the game was a four-point game with 46 seconds left, despite Virginia shooting 33.3 percent on the night.
If Virginia is pathetic, that would mean Duke was four points better than pathetic, before the free throws in the endgame.
Dumbass fans and their dumbass observations being what they are, Tony Bennett likes to preach that defense can keep you in games when the shots aren't falling, and this one proved him right, again.
The UVA D kept them in the game, and the shots were definitely not falling.
But it wasn't so much that the shots weren't falling, as Virginia just wasn't creating good looks, not for the first 30 or so minutes, anyway.
And for that, credit a suddenly dominant Duke D, which only ranks 24th in KenPom in adjusted defensive efficiency, but the season-long number masks the truth about how good Duke has been of late.
Since the 69-62 OT loss in Charlottesville on Feb. 11, the Blue Devils have allowed an unadjusted 0.986 points per possession over their last nine games, skewed a bit by points given up to opponents in garbage time of four blowout wins.
That 0.986 points per possession allowed ranks second in the ACC over that span, to Virginia.
Saturday night, Duke completely took Virginia out of any offensive rhythm, enabled a bit by a permissive approach by the game's officials to allow the guards to be, shall we say, a wee bit handsy on Cavalier guards on screens, making it hard for Kihei Clark, Reece Beekman, Armaan Franklin and Isaac McKneely to get any daylight.
That's not a complaint; just an observation.
Virginia coach Tony Bennett reluctantly adjusted to the way the game was being called, only moving away from his mover/blocker-sides sets to more middle screen and high screen and roll action midway through the second half.
The move fueled a stretch that saw UVA shoot 7-of-12 and cut a double-digit deficit to four, but it was too late.
Not that anything would have necessarily worked tonight against that Duke D, but doing the same thing that wasn't working over and over meets the classic definition of insanity.
In Tony we trust, yes, but this was stubbornness from Bennett that proved costly.
Also overheard: 'F–k UVA'
As was the case all week, I was seated in the upper media area, not allowed to hang with the cool kids on press row, which is just the way things go when you're me, I guess.
To be honest, I'm more comfortable not being allowed to hang with the cool kids.
Never did like the cool kids, but I digress.
The seating had me hanging with the fans, which is usually fun.
Not so much Saturday night.
A group of three college-age kids in Virginia Tech athletics gear, I assume students there, was seated in a sea of Duke fans a few feet to my right, chanting, as Duke was closing the game out with free throws in the final minute, "Fuck UVA."
This is the kind of thing that kids are wont to do, I guess, but what I couldn't get over was, tickets to this one weren't what you'd call cheap.
Upper deck tickets were going in the $60-$75 range on the ticket resale sites, and seats in the lower bowl, next to my seat in the upper media section, were in the $300+ range.
Which is a serious investment for even people with jobs to make, much less college-age knuckleheads still sponging off mom and dad who also apparently had nothing better to do than spend part of their spring break at a game just to hate-rage at the athletics rival of the college they attend.
This doesn't say much for the admissions standards of whatever department welcomed them in as students.
I presume it wasn't the engineering department.
Reminds me of the plane that some jagoff hired to fly over the 2008 Gator Bowl towing a sign poking at UVA for having "Virginia Pride" as the Tech football team was getting ready to play in another BCS game – the "Virginia Pride" reference aiming at the nice gesture from the University of Virginia and Virginia Athletics to show respect for Virginia Tech after the awful mass shooting a few months prior.
I know it's just a few randos involved in both instances, but in any case, what ass clowns.
What's next for UVA
Word from someone who would know was that Virginia was told earlier in the week that if the team made the ACC Tournament final, win or lose, it would be back in Greensboro next week for the NCAA Tournament.
I think it's fair to say that Duke should be here as well.
The reason: the NCAA Tournament needs the money, and it would be assumed that having two ACC teams in Greensboro would sell tickets.
Though, and this was frustrating, the turnout from the UVA fan base was, to borrow from the Duke fans in the bathroom after the game, "pathetic."
So pathetic that it wouldn't surprise me if the NCAA might not be rethinking things with respect to UVA being sent back here next week.
The fan base was out in big numbers for the 2014 UVA-Duke ACC Tournament final. The Greensboro Coliseum that day was 70-75 percent Virginia fans.
I don't think it was 30 percent tonight. This one was a Duke home game.
If we end up stuck in Albany next week, you now know why.
I forgot to vote!
Before the game, I got an email with a link to vote for the All-Tournament team, which shocked me, because they never let me vote in these things.
I'm so out of practice that I didn't follow the rules, which had it so that you had to cast your vote by the second half under-four media timeout.
I was still focused on covering the game at the under-four media timeout, completely forgot, and by the time it was back in my head that I'd forgotten, there was confetti falling from the rafters.
Anyway, Jayden Gardner was first-team, and Armaan Franklin was second-team, if that matters, which, it does to them.
Wrapping the week
This was my first ACC Tournament since the pandemic year tournament that got shut down before the quarterfinal round.
A lot has changed since then.
The ACC might only get three teams in the NCAA Tournament on Selection Sunday, which just blows my mind.
The ACC in 2019 had three #1 seeds.
If the bubble teams this year – NC State, Pitt and Clemson – don't get bids, they have nothing to cry about. All left here having lost by at least 20. That's their final impression, and obviously not a good one, on the tournament selection committee.
North Carolina, the preseason national #1, likely won't even play in the NIT.
Three programs made coaching moves here this week – Georgia Tech outright firing Josh Pastner, Mike Brey leaving Notre Dame, but not retiring, which, read into that what you will, and Jim Boeheim not retiring from Syracuse, then saying after the school announced his successor that, in fact, sure, why not, it is retirement.
The news before the tournament was that the folks running things at Clemson and Florida State aren't happy with the current financial arrangements with the ACC, and how the lack of money flowing into their coffers are making it hard to keep up with the SEC and Big Ten, not that there's much they or anybody in the conference can do about that.
The ACC, not that long ago the nation's pre-eminent college athletics conference, winning national championships in football and men's basketball on a regular basis, is in shambles.
It's so bad that they couldn't even get the media shuttles here to run on time, for lack of drivers.
You see the big things being done poorly. I see that they're not even getting the easy stuff done right.
The ACC is closer to being the AAC or A-10 than the SEC or Big Ten.