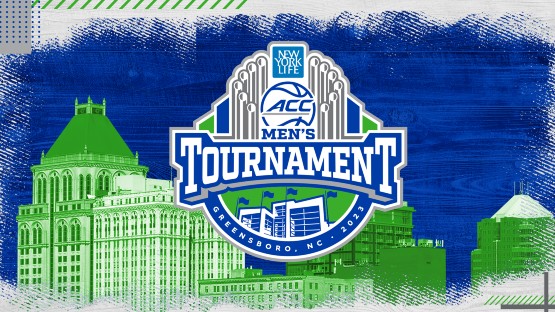 Virginia likely gets Boston College or North Carolina, two teams with recent wins over the Cavaliers, on Thursday, but get past there, and the good guys could be playing for the trophy on Saturday night.
That's my take on how the 2023 ACC Tournament bracket shakes out for the 'Hoos (23-6), who are the #2 seed, giving them a double-bye, meaning, no games until Thursday night at 7 p.m.
Virginia has an NCAA Tournament bid sewn up at this point, so what happens in Greensboro is all for seeding for next week.
Well, seeding, and a chance at a spot in the Greensboro pod for the first weekend of the Big Dance.
But that's next week. There's plenty to play for this week.
For starters, it would be nice to build on the modest two-game winning streak from last week, both wins at home, over Clemson, the #3 seed, and Louisville, the #15 seed.
It would also be nice to see some productivity out of the starter at the five, Ben Vander Plas, who has been limited with a bad back the past few weeks.
Keep in mind, of course, that the last ACC Tournament champion to cut down the nets at the Final Four was the 2010 Duke team.
Three ACC teams since have gone on to win national titles – the 2015 Duke team, UNC in 2017, and UVA in 2019.
Games to keep your eye on until Thursday night
#10 Boston College (15-16, 9-11 ACC) vs. #15 Louisville (4-27, 2-18 ACC), Tuesday, 4:30 p.m.
Boston College split with Virginia in the regular season, including a 63-48 win in Chestnut Hill last month.
Virginia swept Louisville, though the game at Louisville was close, a 61-58 win in the Yum! Center.
BC had won three straight until its regular-season-ending loss at home to Georgia Tech on Saturday.
Louisville is likely going to keep the bus running when they get to the Greensboro Coliseum Tuesday afternoon.
#11 Virginia Tech (18-13, 8-12 ACC) vs. #14 Notre Dame (11-20, 3-17 ACC), Tuesday, 7 p.m.
Tech won the teams' only regular-season matchup, 93-87, in South Bend, back on Feb. 11.
The Hokies wouldn't meet up with Virginia until Friday night, if both teams were to get that far, but they do own a win in the series this season, 74-68, in Blacksburg, on Feb. 4.
#6 North Carolina (19-12, 11-9 ACC) vs. #10 Boston College/#15 Louisville winner, Wednesday, 7 p.m.
North Carolina might need to win the ACC Tournament to get an NCAA bid. The Tar Heels certainly can't lose this one on Wednesday, and they almost certainly would then need to beat Virginia on Thursday.
Carolina won each of its one-and-done matchups with BC and Louisville in the regular season.
#1 Miami (24-6, 15-5 ACC) vs. #8 Syracuse/#9 Wake Forest winner, Thursday, noon
Man, Miami really did have a favorable conference schedule this season. The 'Canes only played Virginia at home, and ditto for Syracuse (17-14, 10-10 ACC) and Wake (18-13, 10-10 ACC).
Both were single-digit games won by Miami.
#4 Duke (23-8, 14-6 ACC) most likely vs. #5 Pitt (21-10, 14-6 ACC), Thursday, 2 p.m.
Pitt is dangerously close to the bubble, so the Panthers can't afford a hiccup on Wednesday against the winner of #12 Florida State (9-22, 7-14 ACC) and #13 Georgia Tech (14-17, 6-14 ACC).
I'm assuming there's no issue there, and we get Pitt-Duke in the quarters.
Duke has won six straight since its crybaby OT loss in Charlottesville on Feb. 11. The Blue Devils beat Pitt in the teams' only head-to-head matchup, 77-69, in Durham on Jan. 11.
FWIW: My tourney prognostications
One, there could be a lot of upsets in this one. The teams playing on Tuesday have, by and large, been playing well of late, and I think any of them (aside from Louisville) could pull an upset on Wednesday.
Two, Carolina is guaranteed playing for its postseason future, and I wouldn't want to be either Clemson,  Pitt or NC State on Selection Sunday if any of them put up Ls in their first games down in the tournament.
Only three teams are NCAA Tournament locks. Those three are my ACC Tournament favorites, in this order: Miami, Duke, Virginia.
My fourth pick is North Carolina.
Should be a lot of fun, no matter what.