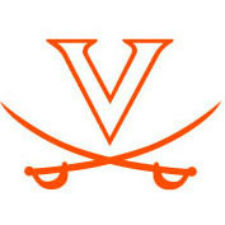 For the fifth consecutive year, both the UVa. men's and women's tennis teams will host NCAA Tournament first and second round play at the Snyder Tennis Center. The women's regional will be Friday-Saturday, May 9-10, while the men's regional is set for Saturday–Sunday, May 10-11.
In the men's tournament, Virginia will host Army in the first round, while penn state plays UNC Wilmington in the other first round match in Charlottesville.
In the women's tournament, the Cavaliers will play Youngstown State in the first round, with Kentucky meeting Columbia in the other first round match. The first round winners play the following day for a trip to the NCAA Round of 16, hosted this year by Georgia.
The reigning NCAA Champion Cavalier men (23-2) are the tournament's No. 4 overall seed, marking the eighth consecutive year they have been a top-four national seed. Virginia won its eighth consecutive ACC Championship title this season and enters the tournament on a 14-match win streak. It marks the 11th consecutive year that Virginia has received a seed and hosted a regional. The Cavaliers are the only team to be a top-eight seed in the tournament in each of the past 11 seasons. Virginia, who has played in the last three NCAA finals, has reached the quarterfinals nine straight seasons and the made semifinal appearances in six of the past seven years.
The Cavalier women (21-5) earned a No. 3 overall seed, the highest seed in school history. Virginia, which has posted a school-record 21 wins, won its first ACC Championship title last week and won a share for the program's first ACC regular-season title this season. The Cavaliers are a national seed for the fourth consecutive year. In each of the past three years, Virginia has reached the NCAA round of 16, the best finish in school history. This season marks the school-record sixth consecutive NCAA Tournament appearance by the Cavaliers.
2014 NCAA TENNIS CHAMPIONSHIP – CHARLOTTESVILLE REGIONAL
FRIDAY, MAY 9
10 a.m.          Kentucky (16-11) vs. Columbia (16-4) [women's first round]
1 p.m.*           Virginia (21-5) vs. Youngstown State (14-11) [women's first round]
SATURDAY, MAY 10
9 a.m.             penn state (21-5) vs. UNC Wilmington (15-6) [men's first round]
12 p.m.*        Virginia (23-2) vs. Army (20-5) [men's first round]
3 p.m.*           Women's Second Round
SUNDAY, MAY 11
1 p.m.            Men's Second Round
*match will not start before scheduled time