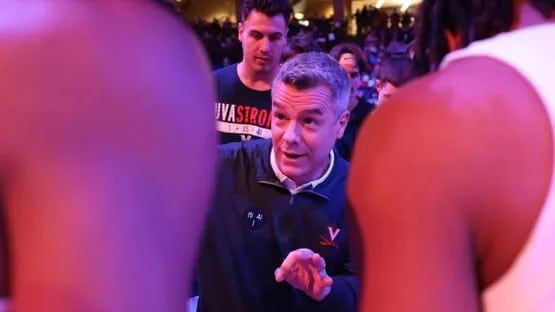 Tony Bennett played his college ball at Wisconsin-Green Bay. He remembers the joy of making the NCAA Tournament from a mid-major.
"Oh, man, I wanted to get to this tournament so bad," said Bennett, now among the nation's top big school coaches at Virginia, where he has won a national title, in 2019.
Before Virginia, Bennett was a star for his father, Dick, at Green Bay, where he averaged 19.4 points per game over his four-year career, and shot 49.7 percent from three-point range, still tops in NCAA history.
"He went there to build a program, and I decided to go there. And I said, Dad, I think maybe someday we can get to the tournament. So, that experience of playing for him, getting there, winning our conference tournament, there's just such elation," said Bennett, whose Green Bay teams won 73 games in his last three years there, but only made one NCAA Tournament appearance, in 1991, losing 60-58 to Michigan State in the first round.
"Steve Smith hit a last-second shot to beat us against Michigan State in the first round," Bennett remembers.
It sounds like it still stings to this day, 30+ years later.
The lesson he keeps with him as a coach at a Power 5 is that "good basketball knows no divisions or no limits."
"That's one thing I was raised on," said Bennett, whose fourth-seeded Cavaliers will face a good mid-major team, #13 seed Furman, on Thursday in the first round of the 2023 NCAA Tournament.
Virginia missed the 2022 tournament. Its last NCAA tourney game came in 2021, when his team, a four seed in a COVID quarantine until the day of its first-round game with #13 seed Ohio, fell to the Bobcats, 62-58.
Bennett's team also was on the business end of the biggest upset in tournament history, the 74-54 loss to UMBC, the first #16 seed to defeat a #1 seed.
Which is to say, nobody needs to tell Tony Bennett to be mindful of how good the Furman team that he and his guys will be facing on Thursday are.
"Absolutely, I talked to our team about that. There's no question when you come from a mid-major conference, again, I don't believe, good basketball knows no divisions or limits, and you play a team from a major conference, that's motivation. When you're the lower seed, and it's just like there's just something about that, that the crowd gets behind that. You have to be ready for that intensity and that energy," Bennett said.
Oddly, Virginia's kids might have as much chip-on-the-shoulder motivation as the Furman kids. Furman, the SoCon champ, has been a trendy upset pick, dating back to the minute that CBS announced the matchup on its selection show on Sunday night, thanks to Seth Davis, a Duke alum and long-time Virginia and Tony Bennett truther.
"We'll go toe to toe. We're not backing down," Bennett said. "Again, you have to have that. I think good teams, whether you're from a Power 5 or mid-major, you respect everyone you play, and you don't fear them. That's a common thing. But you have to have that mindset."