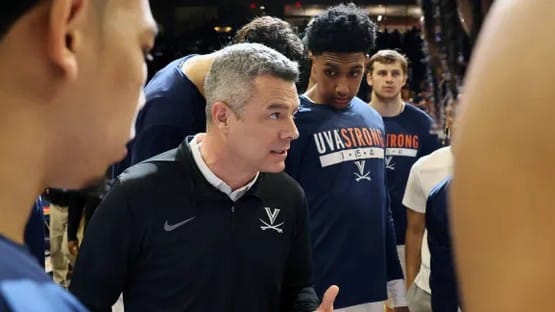 The style of play that Tony Bennett prefers – slow tempo, tight defense, precision offense – has plenty of critics, inside the Virginia family and, of course, out.
It's been successful – see: 2019; also see: 13 of his UVA alums have gone on to play in the NBA.
The fan base is getting a bit antsy, though, because of the recent trend of top recruits deciding to hit the transfer portal in search of greener pastures.
Two years ago, Jabri Abdur-Rahim and Casey Morsell bugged out. This spring, Bennett lost Kadin Shedrick to Texas, Isaac Traudt to Creighton.
All four, on their way out, cited issues with playing time and style of play.
Which is odd, right, because it's not like what Bennett does is an unknown.
It was one thing for his first recruiting class, dubbed the Six Shooters, to become two because the other four didn't know what they were signing up for and decided to get while the gettin' was good.
Fourteen years in, kids and parents who invite Bennett into their living rooms know about the Packline, the snail's pace, and how long it takes to internalize how to play the style and crack the rotation.
"I was bummed it came to that. I definitely planned on coming in and making an immediate impact," Traudt told The Athletic in an interview for a story published this week, going back to his decision to redshirt this past season after coming to the realization in preseason practice that he would have a tough time getting rotation minutes.
Traudt, a 6'10" power forward, was a consensus Top 100 recruit, ranked as high as 51st nationally by ESPN, who had offers from the likes of Gonzaga, Michigan State, Kansas and UNC.
You have to wonder now, given what he's said on his way out the door, why he chose Virginia.
"They're very defense-oriented, and that's won them a lot of games, but I'm not the most elite defender in the world. My strength in basketball is offense, which Creighton really utilizes," Traudt said.
To be fair, this one is probably a two-sided recruiting fail – on the part of Traudt, who doesn't seem interested in playing defense, and yet chose Virginia; and then on the part of the recruiting staff, who bypassed other talented bigs who would be better fits to take a guy who turned out not to be one, and didn't seem to want to be.
You can't say that about Shedrick, who spent four years at Virginia before deciding to transfer out as a grad transfer after being demoted from the starting lineup and rotation in mid-January.
It was Shedrick's second demotion in as many years, leading him to seek what he termed a "change of scenery" that led him to Texas.
Shedrick told The Athletic that he was fully on board when he committed to Virginia as a high-schooler that he wanted to go there to try to develop as a player.
"Coming out of high school, I was good, but I was raw," Shedrick said. "Most coaches are out here telling you you'll play right away, but for me, redshirting was already something I thought would be best for me, before I even stepped foot on Grounds. And then you look at what Virginia had done in the past, with guys like De'Andre Hunter, and there was a whole list of guys who it paid off for."
Shedrick got better from Year 1 to Year 4, but his time at Virginia will be marked by frustrating inconsistency – largely a feature of inconsistent effort on his part, in practice and in game action.
That happens in college athletics. You're talking about teenagers and early twentysomethings who have issues with classes, girlfriends and tons of other things going on as they're also trying to learn the nuances of a difficult system in a program with high expectations.
Shedrick, to his credit, didn't up and quit after struggling early to adapt, giving it four good years.
Another guy who did that was Jay Huff, who like Shedrick redshirted as a first-year, then got limited minutes for the next two before finally earning a starting job as a junior and senior.
Huff admitted in his interview with The Athletic that he considered transferring early on when things weren't going his way.
"I think there is huge value in sticking it out," said Huff, who is in the NBA with the Washington Wizards on a two-way deal. "I totally understand getting somewhere and it not being what you thought, and having the ability to make another decision — that's a good thing. I also think there is something to be said for players being adaptable.
"But it is tough," Huff said next. "The new landscape is going to make it difficult for them to get the players that they want, because a lot of players see it differently now. That's just how it is. It's not anybody's fault necessarily. It's just kind of how things are going."