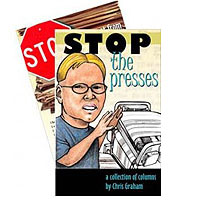 I was bullied as a kid. No doubt about it. Bullying was a fact of life for me, riding the bus every day, an hour each way, to high school.
One genius wrote in magic marker on one of the seats in the back: "Chris Graham is a fag." I rarely sat in the back of the bus, which was the province of the bullies, but one day, lucky me, saw that.
To borrow from "Seinfeld," not that there's anything wrong with that, right? Except that, this was the '80s, and, you know, not that there's anything wrong with that, but I'm not gay.
I did read a lot. I was the smart kid on a bus loaded with tough kids, and in case you thought it was just the black community that has issues with kids seeking a way out through education, and penalizing the kids who did well in school for doing well in school, well, I grew up in the all-whitest community that there can be.
And, no, the kids who did well in school didn't do well on my bus.
I dreaded every bus ride, every morning, every afternoon, to a point where I came up with every excuse I could to miss school.
I missed upwards of 15 days a school year until my senior year, when I could apply for a parking pass for kids who had to drive to school because they had an after-school job. I only worked Friday and Saturday nights at the Hardee's in town, but I drove every day, alone and at peace.
The kids in my advanced studies classes were no easier for me to deal with. At least they didn't bully me, but whereas I was the smart kid on the bus full of working-class toughs, I was the poor kid in classes with upper-middle-class college-bound kids.
As much as I dreaded the bus rides, I dreaded more the kids in my AP classes finding out that I lived in a trailer park.
Then I suffered a freak sports injury midway through senior year, and my gig was up. For the first couple of weeks after my ACL surgery, I needed a ride home after school, and one of my friends stepped up and volunteered to drive me home.
She didn't realize how close to tears I was when we got to the entrance to the trailer park and I had to say the words, Turn here.
My secret was out.
I'm sharing this because I saw tonight on Facebook a story about a little 7-year-old girl who is being bullied on her school bus and doesn't want to ride the bus anymore as a result.
The photo accompanying the story is of the little girl in tears.
Folks, we need to all step up and do something to cut this sh-t out.
It's been more than a quarter-century since for me, and I still carry all of this, the rough bus rides, the poor shaming, with me every single day, the bullying, the sense that I'm not good enough.
This isn't kids being kids; this is abuse that stays with us for life.
Take a stand against bullying. Be part of the solution.
Column by Chris Graham