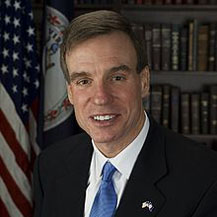 U.S. Sen. Mark R. Warner (D-VA) and a bipartisan group of seven Senate colleagues today introduced legislation to combat sexual assault on college and university campuses. The Campus Safety and Accountability Actwill help to better protect and empower students, improve reporting, training and best practices, and strengthen transparency and accountability of educational institutions.
Amid troubling reports of cases of sexual violence at colleges and universities, the eight senators have been working together for months to examine federal, state, and local policies, collect feedback from stakeholders, and craft bipartisan legislation. The bipartisan Campus Accountability and Safety Act will help schools take proactive steps to protect their students.  In addition to Sen. Warner, the bipartisan group includes Sens. Claire McCaskill (D-MS), Dean Heller (R-NV), Richard Blumenthal (D-CT), Chuck Grassley (R-IA), Kirsten Gillibrand (D-NY), Kelly Ayotte (R-NH), and Marco Rubio (R-FL).
"The statistics are appalling. The individual stories are heartbreaking. As the father of three college-age daughters, it is extremely important that we understand the scope of this problem and that we take steps to deal with it.  Combating campus sexual assault requires a renewed focus on implementing best practices, and that means an open and honest dialogue between law enforcement, colleges and universities, and survivor groups on what works and what does not," said Sen. Warner. "I am committed to working with this strong bipartisan group of colleagues to send a clear signal that enough is enough."
Currently, an American woman who attends college is more likely to be a victim of sexual assault than a woman who does not attend college.  It is estimated that less than 5 percent of victims of rape attending college report their attack. In many cases, victims wishing to report sexual assault experience confusion over how to report, confusion over acceptable standards of conduct and definitions of rape and sexual assault, and a fear of punishment for activities preceding some assaults, such as underage drinking.
Provisions of this bipartisan legislation include:
New Campus Resources and Support Services for Student Survivors: Under this legislation, colleges and universities will be required to designate Confidential Advisors who will serve as a confidential resource for victims of crimes committed against a student. The role of Confidential Advisors will be to coordinate support services and accommodations for survivors, to provide information about options for reporting, and to provide guidance or assistance, at the direction of the survivor, in reporting the crime to campus authorities and/or local law enforcement. To encourage individuals to come forward with reports about sexual violence, schools will no longer be allowed to sanction a student who reveals a violation in good faith, such as underage drinking, in the process of reporting a sexual violence claim.
New Historic Transparency Requirements: For the first time, students at every university in America will be surveyed about their experience with sexual violence to get an accurate picture of this problem.  This new annual survey will be standardized and anonymous, with the results published online so that parents and high school students can make an informed choice when comparing universities.
Campus Accountability and Coordination with Law Enforcement: All schools will now be required to use one uniform process for campus disciplinary proceedings and may no longer allow athletic departments or other subgroups to handle complaints of sexual violence for members of that subgroup alone. This legislation will require colleges and universities to enter into memoranda of understanding with all applicable local law enforcement agencies to clearly delineate responsibilities and share information so that when a crime occurs, both campus authorities and local authorities can focus on solving the crime rather than debating jurisdiction.
A one page summary of the legislation can be found here.