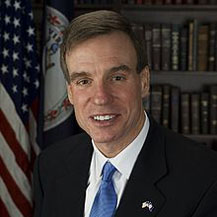 U.S. Senator Mark Warner (D-VA) urged the U.S. Department of Commerce Patent and Trademark Office (USPTO) to reduce abusive patent troll lawsuits by improving the patent process and limiting low-quality, vague patents.
In light of recent court decisions, Sens. Warner, Jeff Merkley (D-OR), Mark Begich (D-AK), Martin Heinrich (D-NM), and Tom Udall (D-NM) sent a letter recommending specific actions to address abusive legal actions while continuing to encourage innovation and technological advancement.
"While it is important that our legal system uphold the rights of intellectual property owners to enforce those rights in court, abusive litigation raises questions about whether too many illegitimate patents are being issued, whether vague patents are being stretched to cover ideas never envisioned by the patent holder, and whether more can be done to protect our intellectual property regime from being misused," the Senators wrote. "From home builders to small businesses, far too many Americans that have little if anything to do with the innovation process have been negatively affected by abusive patent trolling."
The letter urges the USPTO to focus its resources on the following five measures: improving examiner incentives; strengthening examiner guidelines and documentation practices; ensuring all patents, including "functional claims," are clear; expanding crowdsourcing to identify problematic types of provisions; and increasing public access to patents and patent history online.
A PDF of the letter is available here.