Redshirt freshman Jalen Jenkins followed his first career double-double performance on Thursday draining a career-high 20 points in George Mason's 84-80 loss to Saint Joseph's Saturday night. Jenkins was one of four Patriots in double-figures as Bryon Allen also contributed 20 points in Mason's first home Atlantic 10 Conference contest.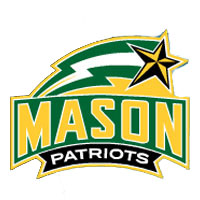 After trailing by five at halftime, SJU (10-5, 1-1 A-10) came out with a 13-2 run to open the second half to reverse the advantage and take a 53-47 lead with 16:26 on the clock. Mason (7-9, 0-2 A-10) continued to chip away at its deficit, cutting the score to one point on four occasions before Sherrod Wright hit a jumper following a Patrick Holloway triple to put the Patriots in the lead, 64-63 with 8:40 to play.
The lead was short-lived, however, as the Hawks put together a 12-3 spurt to go ahead 80-70 with less than a minute left. Allen scored Mason's final eight points, including hitting a long trey at the buzzer for the final 84-80 score.
Jenkins and Allen accounted for half of Mason's offense as Wright finished with 11 points, while Patrick Holloway added 10 points off the bench. Mason shot 49.2 percent from the field to Saint Joseph's 59.2 percent clip led by Halil Kanacevic's 23 point performance. SJU also had four players in double-figures and won the rebounding battle, 31-26. Jenkins finished the night with 20 points, seven rebounds and five steals (career-high in steals).
Up next for the Patriots, Mason hosts nationally-ranked Massachusetts on Wednesday at 7 p.m. The game will be televised on SNY/Campus Insiders/MASN.