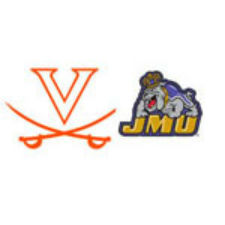 On paper, the season opener for eighth-ranked UVA basketball at in-state rival JMU on Friday isn't much of a game.
Thanks, Capt. Obvious.
Virginia is coming off its first 30-win season since the Ralph Sampson era, its first ACC Tournament title since the Bicentennial, a #1 seed in the NCAA Tournament and a run to the Sweet Sixteen. JMU is headed in the other direction: a year after winning the CAA and winning a game in the NCAA Tournament, the Dukes slipped to 11-20, and Matt Brady's job may be on the line at a school that proved with its 2013 firing of long-time football coach mickey matthews that it's not willing to accept mediocrity.
So there you have the storylines heading in. UVA, on the rise, JMU, on the decline.
Now to the intangibles. UVA coach Tony Bennett brings most of his team back from last year, plus redshirt freshman point guard Devon Hall, and a deep recruiting class that will press the veterans for playing time. But Bennett has to replace two key cogs from the 2013-2014 team, defensive stopper Akil Mitchell (6.8 points per game, 7.0 rebounds per game in 2013-2014) and guard Joe Harris (12.0 ppg), who is earning nice minutes early in his NBA rookie year alongside LeBron James.
Complicating things Friday night for Bennett is that he will not have the services of his returning starting point guard, London Perrantes (5.5 ppg, 3.8 assists per game), and role player Evan Nolte (2.8 ppg), both of whom are serving a suspension for violations of team rules over the summer.
Perrantes, you may remember, was the key to the Cavs' midseason turnaround in 2013-2014, with his insertion into the starting lineup fueling the 21-3 Cavalanche finish.
JMU has some player personnel issues of its own to deal with. Point guard Andre Nation (15.4 ppg in 2013-2014) and forward Tom Vodanovich (4.1 ppg last season) are out for Dukes coach matt brady for the first five games of the 2014-2015 season for violations of team rules.
JMU also will miss Charles Cooke (14.3 ppg) and Andrey Semenov (10.9 ppg), Cooke having transferred out, and Semenov lost to graduation.
Madison will rely on junior guard Ron Curry (12.1 ppg, 3.4 apg in 2013-2014) to get the offense started, but the losses to graduation, attrition and suspension will make life interesting for Brady and his staff as they try to figure out how to flesh out their rotation.
How this one will play out: It's basketball. JMU will have a hyped home crowd, the Dukes will take an early lead, Virginia will slink into the locker room with a lead in the high single-digits, and pull away in the second half for a win in the 15- to 20-point range, reminiscent of the 2013-2014 season opener for these two in JPJ.
– Column by Chris Graham