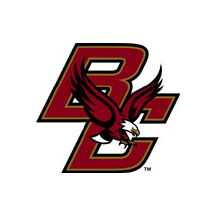 Q. Who replaces Reddick? Is it the young man from Florida who transferred in and him becoming immediately eligible? How did all that just happen?
STEVE ADDAZIO: Yeah, Tyler Murphy is the starter right now going into the season. Tyler was a graduate student and was able to use his fifth year to be able to become eligible immediately. I recruited Tyler to Florida. He's from Connecticut, where I'm from, so I had a great familiarity with him, and his home is an hour and 20 minutes from Boston College. It was a great fit. We had a situation where we lost Chase. We were bringing in a couple of young freshman quarterbacks that we were really excited about, but to give them an opportunity to soak and to mature, and he has veteran experience, he's been a starter, he's been under the bright lights, and I had great familiarity. So it was a really good marriage.
Q. I just want to know what are your thoughts on taking on Syracuse this season?
STEVE ADDAZIO: Well, I mean, we're looking forward to it. Obviously that's a rival game. It was a rival game when I was an assistant coach at Syracuse back in the day, so I was really familiar with it, and certainly we had a real spirited game last year at the Dome, which really just helps enhance that rivalry. I think college football loves these geographical match-ups, and I think it's good for college football. It's good for the fans and the students. Excited about it, and really a healthy deal, so it's great.
Q. You guys host the Panthers on September 5th, a Friday night, both play a physical brand of football, somewhat of an oddity nowadays. What do you expect from the Panthers on Friday night?
STEVE ADDAZIO: Well, like you said, we're kind of similar in that respect, two physical football teams with a downhill power-style offense. Paul is a great coach and has had great success with that style of run game. I think both programs are going to pride themselves on being as physical as possible, so both have good tradition with that, so I think it'll be a great game, and really looking forward to it. It's really just right around the corner right now, so it's exciting. Looking forward to that match-up.
Q. It's a down year for returning quarterbacks, but it's an up year for returning linemen. Every school in the league has at least three returning offensive linemen. If I understood your guys yesterday, you, in effect, have five. Given the fact that you're having to replace a quarterback, receiver, and get a new guy in there at the Andre Williams position, how much of a comfort level is it to have five familiar faces up front?
STEVE ADDAZIO: Yeah, well, that's huge for a lot of reasons. First of all, the identity of our program, we want to be a big, strong, physical football team both sides of the ball, and it all starts up front. So you feel about your offensive line, that's a good starting point, and we do have those new people coming in at quarterback, at running back, and we have to replace productivity. But I mean, I think when you have a strong, solid offensive line that you can count on, you can do some different things to try to find the right mixes in the backfield, so to speak, and at the receiver. Whereas when you're poor up front, no matter what you want to do, you've got problems, and it's very, very difficult. I like the starting point of having a real strong offensive line, and we do, and I'm really — hopefully we stay healthy. That's the next biggest — for everybody, especially if you want to practice the way we want to practice. We practice real physically. I try to cut the practices down from what I used to, but we're still a very physical football team. Even during preseason camp, during the season on a Tuesday, you know, call it bloody Tuesday, it's a tough deal now. We're instituting our first 2nd down run game, and it's tough.
Q. Except for that offensive line unit and your defensive backs, you're depleting a lot of your guys from last year in the skill positions and in the defensive line. How does that play into having such tough opponents at the start of the year such as Southern California and Pitt?
STEVE ADDAZIO: Well, there's a challenge there. We lost some impact players, but we've also gained some players. I think we've grown collectively, like Alex Amidon was an impact receiver for us and we didn't have much around the receiver position besides him, but now I think we're going to be more well rounded without that one impact guy. We lost Mehdi Abdesmad, who's a defensive lineman we lost him Florida State game last year. He was our most dominant defensive lineman. I think he's a great player, so essentially we didn't have him for most of the year. He's back, he's healthy. Hopefully those things will help us. But there's no question we lost productivity, we lost 17 starters. We have nine coming back. But I'm excited about the youth of our team. Now, the youth usually means that you're going to have some bumps in the road, but I like the future and I like where we're headed and I like the fact we invest in these young players. That investment will come back to us.
Q. Can you talk more about replacing Andre Williams and how much you're going to miss a workhorse like that, and the second part of that, what does Tyler Rouse bring to that competition?
STEVE ADDAZIO: Yeah, Tyler is a Syracuse guy. I love Tyler and I love Myles Willis, those two young backs. They'll be carrying the load. Those guys are special. Those two young guys, I've been around a lot of players in my career, but they're elite. I mean, the way they work and carry themselves in the classroom, on the football field, in the weight room, they're unique. So I think that that high character work ethic, demeanor, toughness that they carry will serve us well. Andre was an impactful player last year, but remember now, Andre Williams, when I got the job, people didn't feel he'd be the starter at running back. When we came out of spring football, I felt strong about him, but there was still a lot of who's going to be the running back, and I'd say Andre Williams, and they'd look at me like, come on. Next thing you know within six months he's a Heisman finalist. I think what happens is you just keep working on developing and finding those gems that you have within your team, and I happen to think that those two guys, Myles Willis and Tyler Rouse, are gems. Tyler is a guy that's driven. He didn't have a major college scholarship coming out of high school, and when you talk about a guy that is driven right now to show the country and the people back home what he's all about, I mean, he's a little guy with a big, big heart and a big drive, so I'm excited about him.
Q. For whatever reason, Clemson-Boston College series has really clicked with both fan bases. From your side, give me a thought on playing Clemson, and kind of a follow to that, your thoughts on VicBeasley and what he brings to the table?
STEVE ADDAZIO: Well, let me speak on Vic first. I've watched a lot, obviously, because I'm really involved with the O-line. I think he's dynamic, I think he's just a phenomenal pass rusher. We had a great tackle, Matt Passion, who really battled with him in elite player, and I think Vick is elite. He's explosive. His change in direction is unique, and I've been around some great pass rushers in my day at Florida, and I saw — he is terrific, and he's a guy that is going to create havoc. If you think you're going to lead him into a one-on-one match-up, you're making a big mistake. So now, you've got to really account for him, with chipping him, with sliding to him, and so now you've got a lot of focus on that guy right now, so that's real.  In terms of the game between Boston College and Clemson, we've got a great deal of respect. Clemson is one of the elite teams in our conference, so you want to measure yourself against elite teams, and we went down there this year, and we knew we were going into a tremendous venue, passionate fan base, stadium, playing a tremendous football team and a great coaching staff, and it was really a motivating thing for our program. From our standpoint, we have a great amount of respect for the program as a whole and for the players, and now this year they'll get a chance to come on up to Chestnut Hill. I hope it's really cold and I hope we get like early snow. That would be nice, whatever we can get going there would be terrific. Looking forward to it, but it has been a fun — I've only got one year in it, but I've heard that the series has been a lot of fun.
Q. Talking to the players yesterday, they talked about how you're changing the environment, a lot of mental toughness is what they kept saying that you brought to the program. Can you just speak on from your point of view how things have been going on their side they've been very positive, but what you see so far?
STEVE ADDAZIO: I love our team. I love the team because the way they've responded to this. Our program is tough every day. I mean, every day you've got to bring it at Boston College, whether it's in the winter program, in the weight room, whether it's in preseason or the season, everything we do, we compete in everything we do. We test our team. We work the mental toughness component of our team all the time, and I think our kids have really adapt today it, and now I think they wear it as a badge and they enjoy that challenge. At first, that was really hard, I mean, really hard. And now it seems like it's not — it's what they do. It's what they know how to do. So I think our players have bought into that and have gotten to the point where they really enjoy it. They understand why, as opposed to maybe a year ago, like what are we doing, this is so hard, why does it have to be so hard. But everything we do in our program is to challenge them mentally because I think football, mental toughness is a huge piece of the game of football, and what usually happens, there's a lack of focus and a lack of mental toughness which breaks you apart in the course of a game.
Q. Heading into preseason, do you see one of your biggest offensive priorities just trying to find ways to stretch the field because you don't Alex Amidon anymore?
STEVE ADDAZIO: Yeah, I'd like to put it and just say explosiveness. Our challenge is to become as explosive as we can on offense. I think offense is about creating explosives. It's hard to go down the field in three and four-yard chunks. Last year we created explosives with the play action game with Alex and with big, big hits with Andre. Those hits would come. I think our challenge now is how do we create those explosives. Both those players are gone, where are those explosive plays coming from this year? And I think we hope they're going to come from the quarterback position. We're going to create more explosives there. I think that's what we hope. That's one place. And then I think we feel really good about a couple of our big receivers that are going to emerge this year that people haven't really seen, in Josh Bordner who was a backup quarterback, he's just about a 6'5″, 230, 240 pound guy that's got great athleticism and speed. I think it's he's going to become a mismatch problem. We've got several guys that I think have a chance to do that for us, and I think you're going to see a different looking receiving corps. I think we're going to be a big, tall, big-bodied kind of group, and I think that's important for us.  We'll be a little different. You'll see a little more shotgun than you've seen. We'll be a little different, but what won't change is the physicality up front won't change.