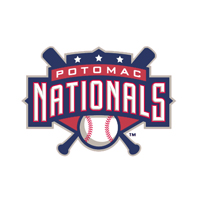 The Potomac Nationals (5-4, 3-2) bested the Carolina Mudcats (5-4, 3-2) in Game Two of their four-game set on Saturday evening at Pfitzner Stadium by the final score of 3-1 thanks to a solid starting pitching performance by winning pitcher, RHP Pedro Encarnacion (1-0) and excellent P-Nats' bullpen work.
The Nationals are now over the .500 mark for the first time in 2014.
Encarnacion tossed 5.0 frames and allowed just one earned run on six base hits while walking two and fanning six pitching out of trouble twice.
The Dominican righty stranded the bases loaded in the 2nd stanza after DH Ryan Battaglia rattled a groundout to finish the frame.
Encarnacion also left Carolina baserunners aboard in the 3rd and 4th innings.
Potomac struck first for the third straight game as RF Brandon Miller blasted a titanic solo home run off the tough luck losing pitcher, RHP Cole Sulser (0-1) to the gap in left center that disappeared into the tree line and was estimated to have traveled over 400 feet to give the Nationals a 1-0 edge.
Sulser went 5.2 innings and gave up three earned runs on five base hits without walking a batter and striking out four men.
The P-Nats added another individual run in the 3rd inning to take a 2-0 lead over the Mudcats on an RBI single ripped through the six hole at shortstop into left field to deliver 1B Justin Miller, who reached on an infield single.
Miller had a three-hit night to serve as his breakout game early in the 2014 campaign.
Nationals RHP Brian Dupra was epic in relief of Encarnacion to help preserve the win.
Dupra gunned through 3.0 scoreless innings and allowed three hits without walking anyone.
Dupra surrendered to two runners who reached base in the 6th but danced through the flames as 2B Torsten Boss popped up in foul ground, C Charlie Valerio struck out on a borderline pitch, and 3B Jacob Roberts made a long out on a deep fly ball to the warning truck ran down by CF Randolph Oduber in the right center field gap.
Nationals fireman, RHP Robert Benincasa (SV 3) converted his third save in as many save opportunities by hanging a zero in the 9th.
Despite handing out a leadoff walk to Valerio, Roberts grounded into a force out, Battaglia fanned looking, and CF Logan Vick struck out on a breaking ball to give the Nationals their first winning record of the 2014 slate.
Potomac will send LHP Nick Lee (0-1, 17.18) to the mound to oppose Carolina RHP Dylan Baker (1-0, 0.00) on Sunday afternoon for series Game Three which features a 1:05pm first pitch.
Gates to The Pfitz will crack open at 12:00pm tomorrow for Kids Eat Free Sunday courtesy of Little Caesars Team Dumfries & Haymarket in addition to post-game Kids Run the Bases sponsored by Glory Days Grill.
The Potomac Nationals Baseball Network, which is accessible at www.potomacnationals.com, will feature the live broadcast of series Game Three beginning with the P-Nats Leadoff Show at 12:50pm on Sunday afternoon.