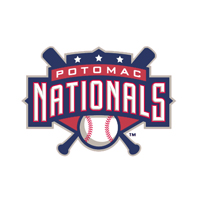 The Potomac Nationals (2-0, 2-0) are headed to their second straight Mills Cup Championship Series after completing a two game sweep of the Lynchburg Hillcats (0-2, 0-2) with their 4-3 win on Thursday night. A combination of timely hitting, pitching and defense culminated in a dramatic one-run victory for the Northern Division champs.
It didn't take long for Potomac to strike first. CF Isaac Ballou propelled a solo home run to lead off the bottom of the first. The P-Nats are now 54-15 this season when scoring the first run of a game. The home run was off Hillcats' starter LHP Daniel Watts (L, 0-1). Watts lasted three innings and allowed just the one run while striking out three.
The Nationals grabbed two more runs in the bottom of the fourth when they loaded the bases with no one out. C Pedro Severino and Ballou each hit a ball far enough into the outfield to sacrifice in a run, making it a 3-0 game.
The Hillcats put a run on the board in the sixth with a LF Jose Martinez solo shot that broke a section of the left field scoreboard. The home run was the only blemish on P-Nats starter RHP Brian Rauh's (W, 1-0) line. Rauh went six innings and struck out a pair while allowing three hits to earn the series-clinching win.
After a 2B Tony Renda double plated Ballou in the bottom of the sixth, Lynchburg put one last rally together in the seventh. LHP Kylin Turnbull was charged with two Hillcat runs. C Yenier Bello singled in Emerson Landoni and a Blake Brown sac fly scored SS Johan Camargo to pull within one.
The play of the game came in the top of the eighth inning. RHP Gilberto Mendez (Sv, 2) came in for a four-out save after LHP Bryan Harper departed with two outs. Landoni, Mendez's first batter, singled to right field with 1B Kevin Ahrens rounding the bag at third trying to tie the game. RF Brandon Miller scooped the ball and fired a dart that pegged Ahrens at the plate for the second consecutive night, ending the inning.
Mendez did not allow a hit in the ninth to clinch the series for Potomac. As the final out fell into the glove of Isaac Ballou, the P-Nats celebrated their series win on the infield.
The Potomac Nationals Baseball Network, which is accessible at www.potomacnationals.com, will broadcast Game One of the Mills Cup Championship Series on Saturday, September 6th. The P-Nats opponent will be determined Friday night in the deciding game between Myrtle Beach and Salem. Broadcast coverage will begin with the P-Nats Leadoff Show at 6:50pm in preparation for the 7:05pm start. Starting pitchers are TBA.