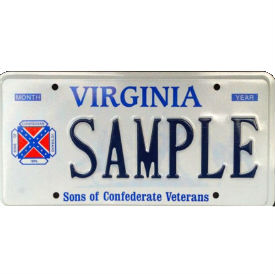 Virginia voters are split on a proposal backed by Gov. Terry McAuliffe and Attorney General Mark Herring to remove the Confederate flag from specialty license plates.
Polling data from Quinnipiac University has 46 percent of Virginia voters surveyed backing the proposal to remove the Confederate flag, with 45 percent opposed and 9 percent undecided.
Democrats back the proposal by a 73 percent-19 percent margin. Independents support the removal of the flag by a 48 percent-42 percent margin. Republicans overwhelmingly oppose the proposal, 71 percent to 24 percent.
There is a clear racial divide: black voters support the removal 73 percent to 16 percent, and white voters oppose the idea 55 percent to 37 percent.
Public Policy Polling surveyed a different aspect of the Confederate flag issue two weeks ago, and found that 35 percent of Virginians support flying the Confederate flag over government buildings, with 51 percent opposed.