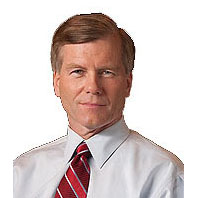 Grover Norquist's Americans for Tax Reform issued a statement on the transportation funding plan unveiled by Republican Gov. Bob McDonnell on Tuesday, labeling the plan, which eliminates the gas tax while raising the state's sales tax, a failure.
"The plan as it stands now fails in its goal to prioritize transportation spending while avoiding tax increases," reads a statement from the conservative group on the proposal, which McDonnell said will raise more than $3.1 billion for transportation needs over the next five years through a 0.8 percent increase in the state's sales tax.
Americans for Tax Reform offered a counterproposal that includes lowering the proposed sales-tax hike, eliminates taxes on diesel fuel and car-registration fees and pulls more money for transportation from the state's general fund, calling transportation a "core function of government" that must be met before other spending interests of state lawmakers are considered.
"The fact is Virginia does not have a revenue problem; it has a problem prioritizing spending," ATR said in its statement.