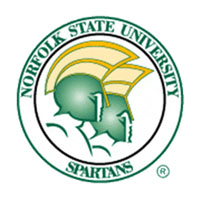 What has already been a historic year for Norfolk State University athletics reached epic proportions Saturday. The Spartans notched just the fifth 15-over-2 seed upset in NCAA Tournament history, stunning national No. 3 ranked Missouri 86-84 before a crowd of 16,829 at the CenturyLink Center Omaha.
Eleven years to the day after MEAC rival Hampton stunned Iowa State in the last 15-over-2 upset, the Spartans added their names to the annals of the greatest college upsets. No. 2 seeds came into the 2012 NCAA Tournament with a 104-4 record against No. 15 seeds. Now, three of the five 15-over-2 upsets have been turned in by MEAC teams, including Coppin State's 13-point win over South Carolina in 1997.
NSU (26-9) took the lead for good on a 3-point play by Kyle O'Quinn with 34 seconds left, then held on in the final seconds to shock the college basketball world. With the win, NSU advances to a third-round game Sunday against No. 7 Florida. Game time will be announced later Saturday evening.
The Big 12 champion Tigers ended their season at 30-5.
NSU shot a sizzling 54 percent from the field and hit 10 3-pointers. O'Quinn led the way with his 20th double-double of the season – game highs of 26 points and 14 rebounds. Pendarvis Williams and Chris McEachin added 20 points and four 3-pointers apiece for NSU, which won its eighth straight game.
The Spartans started quickly, outscoring Mizzou 15-7 over the first six-plus minutes. O'Quinn had three buckets inside and Williams hit a pair of jumpers, one a 3-pointer and one a long 2-pointer.
Missouri answered with a quick 9-0 run, all coming on 3-pointers by Marcus Denmon, who canned a pair; and Phil Pressey, who had the other. All told, there were six ties and eight lead-changes in the half. Michael Dixon hit a jumper to send the game into the break tied at 38-all.
What followed was a second half for the ages, with both teams trading one huge basket after another. There were 14 lead-changes and eight ties in the second half. Mizzou shot 58 percent from the floor and hit six 3-pointers in the final 20 minutes, and NSU shot an eye-popping 61.5 percent from the floor and hit 5-of-6 from long range in the second half.
Despite their offensive efficiency in the second half, the Tigers never led by more than four in the period. A Pressey trey put the Tigers ahead 73-69 with 6:40 left. But Marcos Tamares answered with a triple to cut NSU's deficit to one, and after a Missouri turnover, the Spartans retook the lead on a Rodney McCauley tip-in. The Tigers retook the lead on two Pressey free throws, but NSU went on a 7-0 run to regain control. Tamares hit a pair of free throws to start the spurt, then McEachin buried a 3-pointer and O'Quinn hit two foul shots with 2:17 left to put NSU ahead 81-75.
Missouri wasn't done. Denmon hit a pair of free throws, and after an O'Quinn miss, Dixon hit a jumper to cut the lead to two. Williams turned it over for the Spartans, and Dixon's two free throws tied it at 81-all with 50 seconds left to play.
Then O'Quinn came up with the play of the game. McEachin air-balled a baseline jumper, but O'Quinn corralled the board on the weak side, laid it in and was fouled by Matt Pressey. O'Quinn hit a free throw to complete the three-point play to give the Spartans an 84-81 edge with 34 seconds left.
Denmon missed a triple at the other end, and O'Quinn rebounded. He split a pair of free throws to push the advantage to four with 16 seconds left, but Phil Pressey answered with a trey to make it 85-84.
NSU had a chance to seal it at the line, but instead had to sweat out the final seconds. After McCauley went 1-of-2 from the line to make it an 86-84 ballgame, O'Quinn rebounded the miss and was fouled with eight seconds left. O'Quinn misfired on both free throws, giving the Tigers one last chance. But Pressey missed a 3 at the buzzer, clinching the Spartans' a victory in their first-ever NCAA appearance.
The five starters for NSU accounted for all 86 points. In addition to the trio of Spartans with 20+ points, Tamares had 11 points and McCauley nine. McCauley added seven rebounds and a career-high six assists. Williams was 7-of-9 from the floor, a perfect 4-of-4 from 3-point range, and had four boards. McEachin was 7-of-14 from the floor, 4-of-8 from behind the arc.
Dixon led the Tigers with 22 points and went 4-of-5 from long distance. Denmon had 20 points and a quartet of treys, Pressey had 20 points and eight assists, and Ricardo Ratliffe chipped in with 14 points.