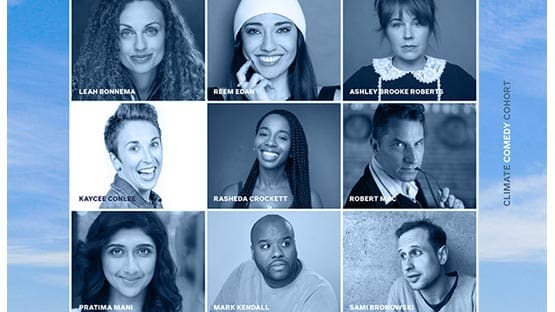 A Charlottesville-based nonprofit is bringing together comedians and climate experts to help save the planet.
Generation180 and American University's GoodLaugh initiative at the Center for Media & Social Impact co-created the program in 2022 to tap the power of comedy to combat perceptions of gloom and doom about climate change and to inspire action and a sense of agency around clean energy solutions.
Nine comedians will take part in the second annual Climate Comedy Cohort.
This year's cohort includes:
Pratima Mani ("Late Show with Stephen Colbert")
Kaycee Conlee ("The Tonight Show with Jay Leno")
Rasheda Crockett ("Adam Ruins Everything")
Sami Bronowski (New Yorker)
Ashley Brooke Roberts ("Wait Wait… Don't Tell Me!": NPR)
Reem Edan (NBC Late Night)
Mark Kendall (CoolCoolCool Productions)
Leah Bonnema ("Late Show with Stephen Colbert")
Robert Mac ("Last Comic Standing")
This blend of stand-up comics, comedy writers, performers and directors will create new comedy, informed by the latest climate science, and take their work on the road with a live variety show, new videos and other out-of-the-box content.
"Comedians help inject hope and optimism into the climate conversation. Our country is at a very important moment in our transition away from fossil fuels toward clean energy, and we need all hands on deck to speed up this transition," said Wendy Philleo, executive director of Generation180. "We especially need more creatives on board. Comedians are an untapped resource to help spread the word and engage more people."
This year's cohort will focus on popularizing solar, heat pumps, electric vehicles and other clean energy technologies that can significantly reduce carbon emissions.
The diverse group of newly-appointed Climate Comedy Cohort fellows ranges from TikTok stars and accomplished stand-up comedians to writers and producers, all of whom want to amplify climate change solutions or already focus on environmental issues in their creative work.
The 9-month fellowship kicks off with a week-long intensive where fellows hear from climate and clean energy experts and then workshop their comedy ideas with one another in a collaborative writers room. During the program, fellows will create several short funny videos and stand-up material based on what they learn, culminating in a live comedy variety show in New York City in November.
"Few things are as powerful as taking a subject matter that scares, hurts, or intimidates us and churning it into something we are strong enough to process and laugh about," said Bethany Hall, Creative Director of CMSI's Comedy Initiatives and cohort artistic co-director. "Climate change is a beast of a topic, but also one with a silver lining and solutions. We can't wait to see what our cohort does with this material."
For more information on the Charlottesville-based Generation180, visit https://generation180.org/