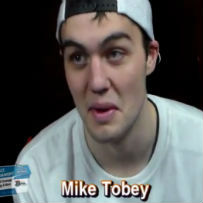 I tweeted after Mike Tobey's most recent subpar effort, two points in seven minutes in Virginia's win over Cal last week, that it was time to give him his gold watch and thank him for his service.
Well, he can keep the gold watch, but his service isn't done yet.
Tobey had 16 points on 7-of-8 shooting from the field and pulled down seven rebounds in 19 minutes in the Cavs' 71-58 win over Oakland on Wednesday.
"It felt pretty good," Tobey said. "My teammates have been really supportive and helping me get through the hump when I've not been playing as well as I would like to play."
Tobey averaged 12.5 points and 7.5 rebounds per game in Virginia's first two games, but he was a defensive liability in the Cavs' 73-68 loss at George Washington in their second game, and his minutes began to decline thereafter.
He's played 20 minutes just once since, in UVA's 80-54 win against overmatched Lehigh on Nov. 25, and had just one double-digit game after the opening weekend, a 14-point effort against George Mason on Nov. 22, going into Wednesday night.
The emergence of sophomore Isaiah Wilkins, who has supplanted Tobey in the starting lineup, and Jarred Reuter, who had 11 points in the win over Cal on Dec. 22, was cutting into Tobey's minutes.
In his last three games, the 7'0" senior had played a total of 24 minutes, scoring four points and grabbing just one rebound.
Wednesday was a pleasant surprise. He finished around the rim with a baby hook, a couple of dunks and hard drives to the hoop, and even knocked down an open 18-foot jumper at the end of a shot clock.
But actually none of that was a surprise to Oakland coach Greg Kampe.
"The scouting report said big white kid that we can't let have the ball by the basket. He can step out and shoot it, and we are going to let him do that, but nothing at the basket. So we didn't accomplish that," Kampe said.
Significantly, he had just one personal foul, which meant he was able to get into a rhythm without getting sent to the bench with foul trouble.
"This season, foul trouble has been my problem," Tobey said. "I'll try to take this and roll with it to help the team to make a run in the ACC. I had more confidence in myself. The last couple of games I've had two fouls in the first half, so I've been getting down. I've got to keep working hard in practice. My teammates support me, so I was able to go out and play well today."
The effort from Tobey was a big boost to classmate Anthony Gill, who had a team-high 17 points on 6-of-8 shooting from the field, and has to hope that Tobey can be the solid second option in the post that was assumed to be the case heading into the season to take some of the pressure from opposing defenses entirely off him.
"We have kind of been waiting on it, and we know he has it in him," Gill said. "It's up to him just to go out there and do it. I was so proud of him tonight. He just goes out there and is aggressive, and he really got it going. When he plays like that, it is hard to beat us, because we have another big guy down there that can really score the ball and really cause a lot of problems."
All other things being equal, Tobey could be the difference between this being another solid UVA basketball season and it being a national championship season.
His numbers being limited as they have been, Tobey can still be a force in the paint when he wants to be, shooting 59.4 percent from the floor, best on the team.
Or he can be a seven-foot ghost on the floor, as he was in that three-game stretch heading into Wednesday, when he put up a grand total of four shots from the floor in three games.
"It is nice to see him have this time of game where he is able to get to the basket and rebound the ball as well," Virginia assistant Ron Sanchez said.
This was the good Tobey, who Kampe said his team needed to double to try to get the ball out of his hands.
"He is so physically strong and we needed to make him become a passer. We are not good at that because in our league, which is really what we are trying to win, there is no one like him," Kampe said.
There's your cautionary tale. He had another big game against a mid-major. Fifteen against Morgan State, 10 against GW, 14 against Mason, 16 against Oakland.
Tobey had six points and a single rebound at Ohio State, zero and zero with four fouls in six minutes against West Virginia, two points and a rebound in 11 minutes against Villanova, two points and no rebounds in seven minutes against Cal.
You don't want to get too excited when Tobey has one of these games, because the tendency has been for him to follow these kinds of efforts up with a couple of weeks on the side of milk cartons.
But the glimpse alone is usually enough to make you think that he's finally turned the corner.
– Story by Chris Graham