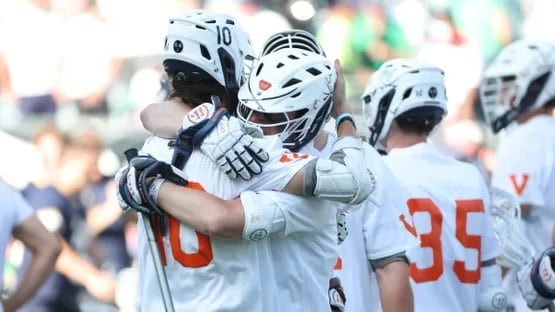 Virginia led 12-11 with 52 seconds to go, but Notre Dame won the last three faceoffs, including the only one of the OT, leading to the game-winning goal from Brian Tevlin in a 13-12 Irish win in Saturday's national semifinal matchup.
The loss ends the 2023 season for the #2 seed UVA (13-4).
Notre Dame (13-2), the #3 seed, advances to Monday's national championship game against top-seeded Duke (15-3).
Virginia had won the two regular-season matchups with Notre Dame, 15-10 in South Bend on March 25, and 12-8 in Charlottesville on April 30.
The Irish took control early, scoring the game's first two goals, but Virginia would rally to tie it up at the break, 6-6.
A Griffin Shutz goal with 10:24 to go put the Cavaliers up two, at 10-8, and a Petey LaSalla goal at the 8:54 mark made it 11-9 'Hoos.
It would stay there until the 2:38 mark, when Chris Kavanaugh found the back of the net to get Notre Dame back to 11-10, and then Eric Dobson scored 31 seconds later to knot the game at 11.
Thomas McKonvey put Virginia back on top, 12-11, with a goal at the 52-second mark.
The Irish won the ensuing faceoff, and a Jake Taylor goal with 32 ticks remaining in regulation tied the score and set up the overtime.
Connor Shellenberger had three goals and three assists for Virginia, capping a three-game NCAA Tournament run in which he had 11 goals and 11 assists all told.