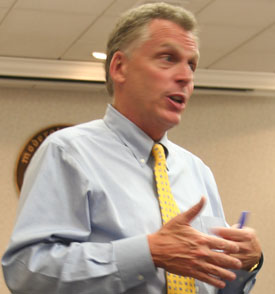 Is Terry McAuliffe running for something? Well, not technically, but he is traveling with the former executive director of the Democratic Party of Virginia, Levar Stoney, who now works for him in a sort of nebulous role that doesn't have Stoney as a political aide, per se, but …
And McAuliffe didn't begin his talk at a meeting of the Staunton Democratic Committee Tuesday night with politics, but rather what he's doing in the business world, which is trying to build electric cars.
And McAuliffe, being McAuliffe, who once wrestled an alligator for a political contribution for a candidate that he was working for, is as gung-ho about the electric-car thing as he is anything political.
But he is still Terry McAuliffe.
"I want to keep all of my options open," said McAuliffe, the former Democratic National Committee chair and 2009 Democratic Party gubernatorial-nomination candidate, who you'd have to think is on the short list of top contenders for the next Democratic Party gubernatorial nomination after the beatdown that was handed to the state ticket in '09 left a short bench for the party heading into the '13 election cycle.
In the meantime, we have McAuliffe getting ready to make electric cars, which he says could be on the market as early as next year, and putting in a bid on a shuttered paper mill in Franklin that he wants to turn into a green-energy facility.
"I'm doing what I said I'd do when I traveled around talking to you in the campaign. My campaign was all about jobs. If you don't have jobs, you don't have money for education, you don't have money for transportation. I said we've got to shake it up and do things differently a little bit here in Virginia," McAuliffe told the gathering of about 25 local Democrats in the Queen City.
McAuliffe is "adamant" that Virginia should adopt a renewable-energy standard requiring power companies to purchase green energy. "We've got to get off of oil," he said. "This is something I've been passionate about. We spent $900 billion last year importing oil, diesel and petroleum products. It's killing our trade deficit, it's killing our economy. It's also a national-security issue. As you know, about 50 percent of the oil comes through six straits – I call them choke points. One of them is the Strait of Hormuz, where most of it goes through, between Qatar and Iran. if one of those were shut down, it would decimate our economy. We've got to start moving away from oil into alternatives."
McAuliffe seems to know that selling green energy in GOP Virginia isn't going to be easy.
"I talk to Republicans about this, and it's like I'm some left-wing nut with Birkenstocks smoking reefer all day talking about green energy. It's like we're way-out wackos," he said.
"We have coal here. You're never going to have clean coal. You will have cleaner coal, and we should be the leader on that carbon-capture storage technology. I'm doing it with cars. I'm doing it. They can sit around and laugh at me, but I'm doing it. The only way you can beat 'em is to show 'em," McAuliffe said.
You could say the same thing about his political future.
"If I can get in and shake things up and move us in the right direction, create jobs, set up new industries, sure, I'd be interested in doing it. I think I can do more good right now bringing businesses in. I want to do that, and then we'll see where we are," McAuliffe said.
See Also
– McAuliffe: Paybacks, and comebacks, TheWorldAccordingToChrisGraham.com
 
Video
Story and video by Chris Graham. Chris can be reached at [email protected].