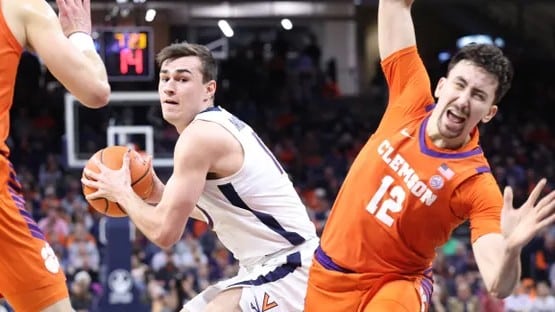 Clemson's 64-57 loss to Virginia Tuesday night may leave the Tigers needing an ACC Tournament title to be part of March Madness.
The Tigers entered Tuesday's encounter with the Cavaliers desperately in need of a win. They didn't get it.
Clemson closes out its regular season at home Saturday against Notre Dame. Even with a win, there's no guarantee that the Tigers will have done enough to secure a spot in the big dance.
Clemson is 21-9 overall and 13-6 in the ACC, the 13 wins in the ACC representing the most league wins in school history.
The problem for Clemson? A NET ranking of 60 after the loss, for one.
Early-season losses to South Carolina and Loyola-Chicago have been problematic for Clemson in the analytics game.
It's conceivable that Clemson that could finish fourth in the ACC regular-season standings, receive a double-bye in the ACC Tournament, and still find themselves on the sidelines on Selection Sunday.
Clemson coach Brad Brownell addressed the Tigers' fate after Tuesday's loss.
"You almost feel like they are looking for some reason not to put us in," said Brownell.
Brownell said he often believes that if North Carolina and Duke aren't at the top of the conference, the perception of the entire conference suffers.
"I think sometimes when North Carolina and Duke are not in the top two or three of the league, there's a national narrative, and if it's Pitt or Clemson or Viirginia Tech in or near the top three, then the league must be down," Brownell said.
The Tigers got off to a 10-1 start in ACC play, led the league for multiple weeks, and now are in a very precarious position.
Clemson, now 3-5 in its last eight conference games, entered Tuesday's encounter with UVA having scored 91 or more points in three of its last four games. Against Virginia, which ranks first in the ACC in scoring defense, the Tigers shot just 41.8 percent and had 11 turnovers.
Needing a win against Virginia, Clemson certainly didn't arrive in Charlottesville filled with hope. The Tigers' woes against Virginia, home or away, continued. Clemson has lost 13 of their last 14 games against UVA and fell to 1-7 all-time in JPJ under Brownell.
Falling behind by 14 in the second half, Clemson got within four in the final minute, but Virginia made five free throws in the final 31 seconds to spoil the Tigers comeback bid.
Clemson and Duke are now tied for fourth place with identical 13-6 records. A win over Notre dame on Saturday would clinch the double-bye for the Tigers, as they own the tiebreaker with the Blue Devils, having defeated Duke 72-64 in mid-January.