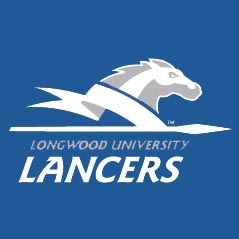 Darrion Allen admitted after this past Wednesday's loss to James Madison that his stats mean little if Longwood doesn't win. Three points for him and a victory for the team, he said, is always better than 20 points and a loss.
A career-high 22 points and a Longwood win, however, and Allen will take that every night.
The 6-2 sophomore guard reached the 20-point plateau for the second straight game, scoring a career-high 22 as Longwood ground out an 81-79 overtime win against UNCG Friday afternoon at the EMU Showcase at EMU Convocation Center. Allen scored eight of Longwood's 12 points in overtime, including back-to-back three-pointers in the final minute. His final trey was a dagger with 28 seconds remaining that eclipsed a two-point deficit and put Longwood ahead for the remainder of the game.
"I was so proud of our guys," said head coach Jayson Gee, who has the Lancers off to a 2-1 start for the second straight year. "They didn't let any piece of adversity affect them. They just kept right on going, versus at James Madison, I thought we shut down at times because of the adversity. That's the mark of a new team. We're a new team, and I've got to do a better job of being patient with them, but at the end of the day, I was really proud of their effort."
Just two days after enduring a second-half swoon in an 82-60 loss at James Madison, Longwood righted the ship and fought through a game that featured 15 lead changes and countless moments of adversity from the start. The Lancers fell behind by 10 points in the first half. Center Lotanna Nwogbo fouled out with 12 seconds left in regulation. Sharp-shooter Ryan Badowski suffered a busted lip and missed several minutes while receiving medical attention in the locker room. UNCG guard Tevon Saddler erased a three-point lead in the closing seconds with a game-tying three-pointer that sent game into overtime.
But every time, the Lancers rallied and overcome the circumstances. They went on a 15-5 run to end the first half and take a 28-28 tie into halftime. Allen and point guard Leron Fisher shouldered Nwogbo's offensive burden and scored all 12 of Longwood's points in overtime. Badowski bounced back after the injury to hit two three-pointers and score eight points in the second half.
Most importantly, Saddler's heroics – as impressive as they were – became of little significance when Fisher intercepted a full-court inbounds pass in the closing seconds to give the Lancers their second win of the year and first on the road.
"We just got into a tight huddle, told ourselves it wasn't happening anymore and that we had to fight, we had to come back this time," said Nwogbo, who almost single-handedly kept Longwood in the game by hitting 8-of-9 free throws in the second half. "We just got together and made it happen."
Despite his foul-induced absence in overtime, Nwgobo was paramount in making that happen. The 6-8, 255-pound center powered his way to 18 points and 12 rebounds for his first career double-double and sank 8-of-9 free throws as part of a 12-point second half.
"Today was just an overall team win," said Fisher, who scored seven of his 12 points in the final nine minutes of the game. "Our team showed a lot of fight, and even when we got down, we picked ourselves up. We hit a bunch of big shots, and guys stepped up."
The big shots came from every direction, as four different Lancers hit game-tying or go-ahead shots from the second-half on. Allen hit two of those go-ahead jumpers, including his game-winning three-pointer from the corner that gave him a career-high four treys for the game.
"[Allen] has really been a surprise, and it's been a result of a lot of hard work," Gee said. "You like to see kids like that who come in and turn themselves from average students into great students. It's the same thing on the court with him. You saw him last year – I wouldn't even have called him average, but now he's turned himself into an above average player. Those are the kinds of things we want to see in our program – good kids become great, average players become better."
The Lancers resume play at the EMU Showcase Saturday at 4:30 p.m. against Youngstown State, which lost 71-62 to host Eastern Michigan Friday night. The game will be the first of the season for starting point guard and team captain Quincy Taylor, who missed the first three games of the season.
"Our scheduling philosophy with this tournament was to be able to go 2-2," Gee said. "We beat Averett and now we beat UNCG, but now we have to get a little greedy. The competition's going to get a lot better, but I'm going to enjoy this one here before I think about the tough game we have tomorrow."