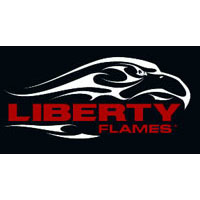 Liberty first baseman Andrew Yacyk drove in three runs, leading the Flames to a 7-2 win over the Radford Highlanders in the middle game of a three-game Big South series, Saturday evening at Liberty Baseball Stadium.
For the second straight night, Yacyk collected two hits, including a two-run double, and scored a run. This evening, he drove in three runs, while driving in four in the Flames' 11-5 victory on Friday. The first baseman has driven in three or more runs in six game this season.
Second baseman Andrew Kowalo also had two hits in the contest, including his fifth home run of the season in the eighth inning.
Yacyk and Kowalo helped back a solid pitching performance by freshman Jack DeGroat, who evens his record at 3-3 on the season. The right-hander gave up two runs on eight hits over 6 2/3-plus innings. He struck out a career-high seven and walked two.
Liberty moves to 9-11 in Big South play and 25-26 overall. The Flames have won three-straight contests. Radford drops to 6-14 in conference and 14-36 overall.
Liberty lead from start to finish, staking itself to a 3-0 lead in the bottom of the first. Left fielder D.J. Artis walked and right fielder Will Shepherd singled to open the frame. Yacyk followed with the third straight hit, a single, scoring Artis for a 1-0 advantage. Later in the inning, designated hitter Payton Scarbrough's two-out single plated two more runs for a three-run edge.
Radford pushed across a run in the top of the second. Catcher Jonathan Gonzalez, who doubled twice in the contest, doubled with one out. After moving to third on a single by first baseman Nygeal Andrews, Gonzalez scored on a ground out by designated hitter Chandler Davis to make it, 3-1 Flames.
Liberty extended its lead in the fifth.  Third baseman Eric Grabowski singled to begin the home half of the inning and moved to second when Highlanders pitcher Mitchell MacKeith's pickoff attempt got away from first baseman Andrews. Two batters later, Artis, who had two hits in the contest, singled, putting runners on the corner with one out. After Artis stole second with two outs, Yacyk lined a double to the bottom of the right-center field wall, plating both runners for a 5-1 advantage.
In the seventh, Radford cut into the Liberty lead with a run. Second baseman Chris Coia walked and scored two batters later, when third baseman Danny Hrbek tripled into the right field corner with two outs. After right fielder Shane Johnsonbaugh then walked to put Highlanders on the corners, DeGroat was lifted for reliever Shane Quarterley. The Liberty right-hander struck out Gonzalez, holding the Flames' edge at three, 5-2.
Kowalo added insurance in the eighth. With shortstop Dalton Britt aboard after a walk, Kowalo belted an opposite field home run into the right field bullpen for what proved to be the final score of 7-2.
Quarterley pitched the final 2 1/3 innings to earn his seventh save of the season. The right-hander did not allow a run or a hit, striking out one and walking a batter.
Radford's MacKeith falls to 3-6 on the year. He allowed five runs on eight hits over 4 2/3-plus innings. The left-hander struck out five and walked two.
The Flames collected 10 hits in the contest. The Highlanders had eight.
Liberty and Radford will meet in the series finale, tomorrow afternoon at Liberty Baseball Stadium.  Game time is scheduled for 2 p.m.