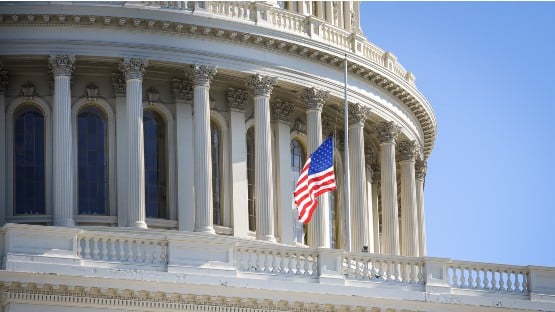 A bipartisan group of legislators are aiming to increase transparency in the federal student loan process and give borrowers additional tools to understand and decrease their student debt burdens.
U.S. Representatives Abigail Spanberger (D-VA-07), Mike Waltz (R-FL-06), and Lori Chavez-DeRemer (R-OR-05) introduced the Student Loan Disclosure Transparency Act on Friday.
The act would require separate, monthly disclosures to student loan borrowers regarding their projected payments, accrued interest, total cost of attendance and other personalized details in understandable terms.
"Virginians who attend college are making an important investment in their futures, but they're often making an enormous financial commitment. We need to help these borrowers make informed, responsible decisions about their financial futures and the potential burdens ahead," said Spanberger. "I'm proud to join with Congressman Waltz and Congresswoman Chavez-DeRemer to introduce this bipartisan legislation to increase transparency for borrowers across the country. When we equip our next generation to succeed, we make sure our communities, our economy and our country can succeed."
This requirement would give students more information as they begin to manage their finances and understand the significant financial commitment associated with taking on student loan debt. Additionally, the bill would require these regular monthly disclosures throughout the life of a federal loan.
"Making the decision to continue your educational journey should be as simple and straightforward as possible," said Waltz. "Unfortunately, today's confusing and complex student loan borrowing process is far from that. In order to curtail our nation's growing student loan debt crisis, we must make the borrowing process more transparent. This bill is an important step in reforming our system and will empower students to make the best decisions for both their educational and financial futures."
The Student Loan Disclosure Transparency Act would improve transparency across the entire life of the federal loan while the borrower attends college and during any period of repayment, deferment, forbearance or delinquency. Additionally, the bill would help encourage student borrowers to pay interest fees and other costs before graduation.
"I'm proud to help lead this bipartisan legislation, which will provide students with much-needed transparency on the true cost of their college education — including by providing regular updates on what monthly payments will look like after graduation. Failing to act means students are literally stuck paying the price," said Chavez-DeRemer.
Specifically, the Student Loan Disclosure Transparency Act would require:
Simplified disclosures in easy and understandable terms. The bipartisan bill would prioritize important personalized information, including origination fees, interest rates, and early payment plans – critical information needed to let students know how to best manage their finances and borrow responsibly.
Regular monthly disclosures during the life of a loan. Under current law, a borrower is only required to receive a disclosure at three points: once at disbursement, once at or prior to repayment, and once during repayment status. The bill increases the frequency of these disclosures while borrowers attend college and after.
Projected payments based on amount borrowed. Included in the monthly disclosures would be projected monthly payments based on how much a student has borrowed with an option to pay any interest that accrues while a borrower is still in school.
The bipartisan legislation is endorsed by the Bipartisan Policy Center, American Association of Colleges and Universities, American Association of Community Colleges and College Ave Student Loans.
The bipartisan bill is also cosponsored by U.S. Representatives Bill Johnson (R-OH-06), Kim Schrier (D-WA-08), and Greg Stanton (D-AZ-04).