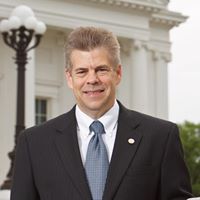 Late last night, the General Assembly passed a responsible, conservative budget that addresses our state's $1.5 billion revenue shortfall and does not include Obamacare's Medicaid expansion. The bill passed the Senate 21-18 and the House 69-31. Click to see how your Delegate and Senator voted .
This budget closes the $1.5 billion revenue shortfall by cutting spending compared to the original budget and using some of the state's rainy day fund. Unfortunately, we had to eliminate teacher pay raises and new funding for higher education.
However, we were able to protect over $300 million in new classroom funding for K-12 education, about $50 million in new funding for mental health reforms and investments in our state employee retirement system.
For a more detailed look at what the budget does and does not include, here is the House Appropriations Committee amendment briefing presentation.
At no point did the budget include language that would have allowed the Governor to expand Medicaid without the approval of the Medicaid Innovation and Reform Commission. However, because reports have suggested that Governor McAuliffe may try to do so, the General Assembly has added an additional, clarifying section that unequivocally prohibits the expansion of Medicaid without the approval of the legislature.
I am strongly encouraging the Governor to sign the budget without any substantial amendments and without inserting Obamacare's Medicaid expansion. If he includes Medicaid expansion, the House will reject that amendment. That will cause even further delays in adopting the budget.
Once the budget is signed by the Governor, we can return to Richmond to debate Obamacare's Medicaid expansion and what it will mean for Virginia.
I have expressed my deep concerns about Obamacare's Medicaid expansion. Our current program is unsustainable and needs reform; Virginia cannot afford the long-term costs and we cannot trust the federal government to pay for Medicaid expansion forever; and Medicaid expansion is essentially a new welfare entitlement program for able-bodied, working adults.
However, I am willing to have a full and fair debate on the issue. The Governor and Democrats can make any proposal they want and I will debate it and consider it on its merits.