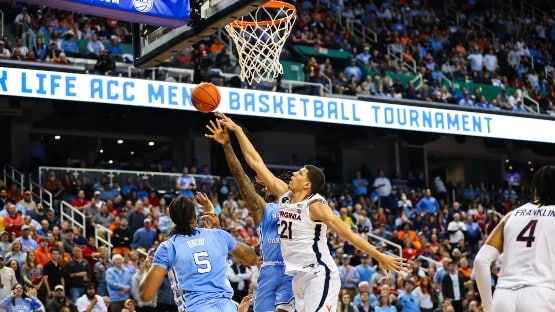 Kadin Shedrick was a healthy scratch in Virginia's final two regular-season games, a massive comedown for a guy who started 14 of the first 15 games of the season, and played some pretty good basketball in that stretch.
Since losing his starting job on Jan. 10, Shedrick had averaged just 7.6 minutes per game, and had three DNPs – Did Not Plays.
The news of the day on Thursday, actually old news, had it that the guy who had supplanted Shedrick, grad senior Ben Vander Plas, had broken his right hand in practice on Wednesday, an injury that would end his season and college career, based on the timing.
Virginia Athletics confirmed the news an hour before the tipoff for Thursday night's UVA-North Carolina game in the quarterfinal round of the ACC Tournament, as the Cavaliers were taking the floor at the Greensboro Coliseum for pregame warmups.
Coach Tony Bennett decided to go with Francisco Caffaro as the starter at center, but Shedrick was the first player off the bench, subbing in for Caffaro at the 16:40 mark of the first half, and it was Shedrick who would be on the floor in the crucial final minutes.
Even though Shedrick would go on to pick up his fourth foul with 11:25 to go in the game, Bennett went back to the 6'11" redshirt junior at the under-eight media timeout, and his defense was a difference-maker.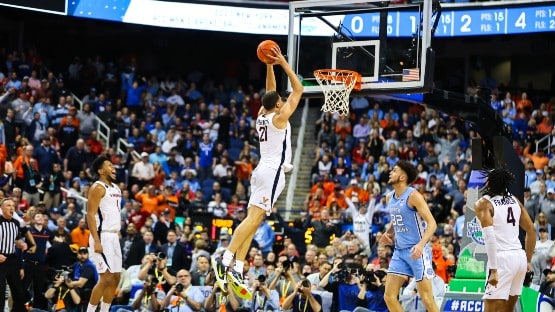 Shedrick recorded three of his five blocked shots in the final 5:13, and his dunk after the third one, with 27 seconds left, punctuated Virginia's 68-59 win.
"That sequence was fun. Brought back some memories. Hopefully we have a few more of those this year," Shedrick told reporters after the game.
His minutes had dwindled to the point that Virginia fans had been openly speculating that Shedrick was likely headed out the door to the transfer portal the moment the season was over, but to Shedrick's credit, he responded to his demotion by putting his head down and working his way back into the rotation.
"You know, I was just staying ready. I was treating practices like game days in my mind. I was excited to get out there and play against the starting five and all that. It was great extra reps for me," said Shedrick, whose five blocked shots, in 19 minutes off the bench, were a season-high.
"You know, just the reps in practice were big for me. I tried to treat it like a game. That was probably the hardest I've practiced in this last month or so," Shedrick said.
"It's staying ready," Bennett said. "That's the one thing, that's why I was so proud of Kadin. I just told him, stay ready, be a great teammate, and work tremendously hard, and that's one of the beautiful things about sports. He had his number called, and he was ready. That encourages me, and there's nothing better."
Before the news started to get out about the Vander Plas injury, the focus in terms of player health heading into Thursday night's matchup had been on North Carolina's first-team All-ACC center Armando Bacot, who sprained his left ankle in UNC's 85-61 win over Boston College on Wednesday, and was obviously limited mobility-wise in pregame warmups.
Bacot scored on Carolina's second possession of the night, on a short jumper over Caffaro, but Virginia's game plan with him, to use post-to-post doubles to get the ball out of his hands, limited him to four field-goal attempts in his 21 minutes on the floor.
"It was really difficult for him to get position or hold position down low in the post, very difficult for him to make any moves. When he set screens, it appeared and looked difficult for him to get out of the screens," North Carolina coach Hubert Davis said.
Bacot finished with a modest four points and three rebounds. He'd been averaging 16.3 points and 10.6 rebounds per game coming in.
Davis subbed him out at the 10:09 mark and never sent him back in after Bacot told him that he was done.
Bacot wasn't the only guy in Carolina blue that struggled. Reece Beekman, the ACC Defensive Player of the Year, put the clamps down on Caleb Love, UNC's leading scorer on the season, averaging 16.8 points per game coming in, holding him to 11 points, on 3-of-15 shooting.
Pete Nance, who was averaging 10.1 points per game, and had torched Virginia for 22 points in the 71-63 win over Virginia on Feb. 25, was limited to seven points on 2-of-7 shooting in 36 minutes.
The Heels shot 35.8 percent from the floor and were 8-of-27 from three – they'd hit 10-of-22 from long-range in the February win in Chapel Hill.
Bennett tweaked the defensive focus from that one, which had emphasized limiting Bacot's touches in the paint, at the expense of leaving shooters to more open looks.
The strategy was helped in part by Bacot's limited mobility due to the injury, and in part by having Caffaro and Shedrick, better defenders than Vander Plas one-on-one in the post, to anchor things in the middle.
"I think that adds defensively, and Kadin, his timing was good, and we talk about when to go and when not to, and for the most part I thought he was right on it," Bennett said. "They're quick, Carolina, off the dribble, and there's times when, either they break you down, and you're out of position, and you can erase a play, like, that was significant, and so, again, I didn't realize Kadin had five (blocks). That's great."
Bennett wasn't aware that Shedrick had the five blocks, but he was well aware about the four fouls. Foul trouble with the bigs was an issue down the stretch, with Shedrick's four, and Caffaro and freshman Ryan Dunn saddled with three each.
The way Shedrick finished out was impressive to everybody in the Virginia locker room, not the least of whom was Shedrick himself.
"I do foul a lot, but I've kind of gotten used to playing with four," said Shedrick, who has fouled out of two games this season, and had four fouls in five other games.
"I think once I hit that limit, I'm like, all right, it's time to play, I've got to calm down. But maybe I should probably do that earlier," Shedrick said.
Shedrick, oddly, was at his best with the four fouls in this one, but that was maybe as much about necessity as anything else, with Vander Plas on the bench in street clothes.
"Finding out about Ben was hard. Nobody expects that to happen," Shedrick said. "So, when you're kind of just thrown back into the action, you've just got to make sure you're ready. I'm here to pick Ben up, because I know he's going through a lot right now, and I'm going to try to play as hard as I can, not only for myself and my team, but specifically for Ben. Anything I do out there, I'm thinking about him, and he should be out there with us."