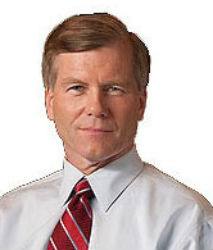 Virginia House of Delegates Speaker William J. Howell and Senate Majority Leader Thomas K. Norment, Jr., sent a letter Friday to Attorney General Loretta Lynch asking the United States Department of Justice to dismiss its case against former Governor Bob McDonnell.
"As the senior legislative leaders of the Commonwealth of Virginia, we respectfully request the Department of Justice dismiss its case against former Governor Robert F. "Bob" McDonnell," Howell (R-Stafford) and Norment (R-James City) write in the letter. "Following last month's unanimous decision by the United States Supreme Court reversing his conviction, we believe no prosecutable case now exists against Governor McDonnell."
The letter continues, "Prosecuting Governor McDonnell again will unnecessarily disrupt the Commonwealth, costing federal and state taxpayers a tremendous amount of money. As you know, Virginia State Police worked closely with the Federal Bureau of Investigation (FBI) and multiple federal prosecutors on the investigations that resulted in the prosecutions of Governor and Mrs. McDonnell. With law enforcement resources already strained, we see no benefit in further overextending them by pursuing charges against the McDonnells – especially when there have been no allegations their conduct resulted in any loss to the Commonwealth."
The full letter can be read here.