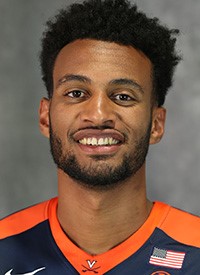 With Kihei Clark out for at least the next couple of weeks following surgery on his broken left wrist, UVA basketball coach Tony Bennett has as his fallback Braxton Key, who, you remember Braxton Key, right?
He was the guy that was supposed to make the 'Hoos a national-championship contender, assuming the NCAA would rule favorably on his request for immediate eligibility, upon his transfer from Alabama.
Key got that favorable ruling in October, and he started Virginia's first five games, averaging 27.2 minutes per game.
But despite putting up a team-best 74.8 defensive efficiency rating, according to sports-reference.com, Key was replaced in the starting lineup by 5'9" freshman Kihei Clark, and in the Cavaliers' last four games, the 6'8" junior has averaged just 13 minutes per game.
Expect to see Key's minutes get back to where they were at the start of the season in the absence of Clark, to the 27- to 33-minute range, with 6'4" sophomore Marco Anthony and 6'7" freshman Kody Stattman likely to get 10 to 15 minutes a game combined in relief of Key and juniors Ty Jerome and Kyle Guy.
As to the impact that this will have on the 'Hoos, I ran some numbers on how Virginia performed on offense and defense with Key in the starting lineup.
Caveat: the schedule was light in the first five games. Only Dayton, in the second round of the Battle 4 Atlantis, is ranked in the top 100 of the KenPom.com power rankings, with everybody else ranked 240 or above.
So, OK, the numbers: on offense, UVA averaged 1.286 points per possession with Key in the starting lineup, and gave up 0.812 points per game to opponents.
In the four games with Key on the bench in a much more limited role, UVA has averaged 1.089 points per possession on offense, and allowed opponents 0.854 points per possession on defense.
That stretch, I need to note, has included three games against top 100s – Wisconsin, Maryland and VCU – two of whom (Wisconsin and VCU) are ranked in the top 15 nationally in defensive efficiency.
Which, me doing all that math, proves, yeah, nothing.
In part because Clark was averaging 25 minutes a game off the bench in the first five, so it's not like we're comparing apples and apples there.
The calculus with the shift to Clark in the starting lineup also included Bennett giving more minutes to Jerome and Guy, who, honestly, can't be asked to do much more – both have been averaging around 36 minutes a game the past four.
This is why it will be just as important that, in addition to Key stepping up, you'll want to see Anthony and Stattman step up as well.
Assuming Clark is out for, what would seem to me to be the absolute minimum, two weeks, that would have him missing the Dec. 19 road game at South Carolina and the Dec. 22 home game with William & Mary.
The final non-conference game is Dec. 31 at home against Marshall, which is the three-week mark.
Four weeks would have Clark out for the ACC home opener on Jan. 5 against Florida State. Five weeks then adds at Boston College on Jan. 9 and at Clemson on Jan. 12, and pushes up against the home game on Jan. 15 against Virginia Tech, ahead of the first of the home-and-home with Duke, on the road in Durham, on Jan. 19.
Depending on how long this goes, we're talking about time and reps for Key, Anthony and Stattman to prove their worth, on both ends.
What Bennett will be looking for in particular with Key will be more consistency on the offensive end. His defensive bonafides are already pretty well-established. Key is a different defensive force than Clark is, certainly, giving Bennett another defender who can protect the rim, take pressure of De'Andre Hunter by being able to guard fours.
As much as we've all been captivated by what Clark does to extend the Pack-Line defense with his ball pressure, I think he's been just as valuable on the offensive side running the point and allowing Jerome and Guy to play off the ball in the Mover-Blocker, running off screens and creating for themselves and for teammates off the wings.
Key is an able ball-handler for a young man who is 6'8", 225, so he could slide into that role, initiating from the top, but the question is, can he do that with consistency?
That could be the big question for UVA basketball over the next few weeks.
Column by Chris Graham