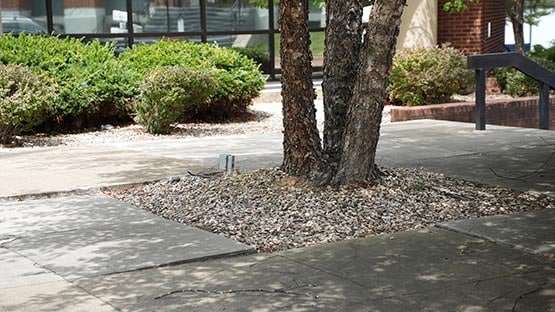 Harrisonburg Public Works will be removing four River Birch trees from the Public Safety Building Plaza as the trees have outgrown their space.
The existing river birch trees' strong, rapidly growing root structure has created cracks and has raised concrete in areas causing a safety concern and has also affected plaza electricity and nearby underground utilities in recent years.
The trees will be replaced by options that are better suited for the space.
The effort is part of the "Right Tree, Right Place" plan to encourage a healthier tree canopy in Harrisonburg.
The Harrisonburg Urban Forestry program currently has five certified arborists on staff that are knowledgeable on the management and care of trees.
With more than 1,500 trees removed from public property in the last few years, mainly due to the Emerald Ash Borer, the City's Urban Forestry Management Plan includes nine action steps to increase tree canopy.
City staff have planted approximately 300 trees annually in recent years in efforts to replace those that have been removed.
Looking forward, raised planter boxes will be installed in the plaza so that newly planted trees may grow without damaging infrastructure.
The Harrisonburg community may look forward to viewing "American Yellowwood" as replacement trees in the plaza, chosen for their urban friendly growth habits, root structure, beautiful aesthetically pleasing white flowers in the Spring and vibrant yellow-orange leaves in the Fall.
For information about Harrisonburg's Urban Forestry Program, visit www.harrisonburgva.gov/urban-forestry-program.