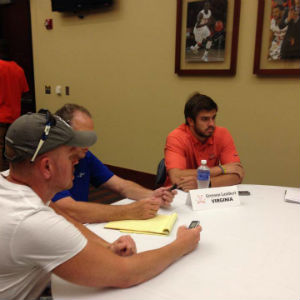 Subpar quarterback play has been a key reason UVA football has struggled the past two seasons. Enter redshirt sophomore Greyson Lambert, a highly-touted recruit in the Class of 2012, the former quarterback of the future, now the QB of the present for Coach Mike London and his staff.
"Greyson had a tremendous offseason. Clearly he's the starting quarterback," said Steve Fairchild, the offensive coordinator under London, whose job security depends on getting the decision on the starting QB right.
Virginia finished 2-10 in 2013, losing its last nine games, in large part due to the lack of productivity from last year's starter, David Watford, who started all 12 games, and Lambert, who saw action in seven games in mop-up duty.
Within that small sample size, we saw glimmers of why Lambert was highly recruited coming out of high school (with offers from Alabama, South Carolina, Clemson and Georgia, among others). Overall, Lambert completed 44 percent of his 75 passes, but in extended action in a 45-26 loss at Miami in November, Lambert completed 13 of his 19 pass attempts for 134 yards, and in a 45-14 loss at UNC earlier in November, he was 8-for-13 for 75 yards and a touchdown.
The late-season action was important to Lambert in terms of his development in getting him ready to take the reins in 2014.
"It's not easy. It's not easy at all. I wasn't ready mentally at all when I first got here," Lambert told me at UVA Football Media Day on Friday.
But with live game action and time getting ready the past two years under his belt, "I've been able to understand the schemes and understand defenses, and understand what we're trying to accomplish as an offense in every situation and circumstance. So that's been a big help, being able to experience those things the first couple of years here," Lambert said.
The coaching staff and his teammates have nothing but high praise for Lambert, who they refer to as a leader on and off the field.
"I see Greyson Lambert, and I really believe that his passion, and all the work that he's put in, is going to push that offense to the limit and let them realize who they are," said junior defensive end Eli Harold.
"Greyson is a great leader, and he has all the weapons he needs on the field, at wide receiver and in the backfield," said Taquan Mizzell, a highly-regarded tailback from the Class of 2013.
It has been assumed by the fan base and media that Fairchild would have to change the offense a bit from the 2013 approach that utilized starter David Watford's ability to stretch defenses with his legs to accommodate Lambert's skillset as a dropback passer. Fairchild, for his part, doesn't foresee making a lot of changes off the bat.
"From a scheme standpoint, we haven't changed a ton from what we were doing last year. Obviously every year, you kind of tailor it towards who you have, try to take things from your package that those guys do well and tailor it around your personnel to that extent," said Fairchild, who still has Watford as his backup quarterback, but did say that he has been working in a package of plays to get Watford into the game in different formations, perhaps as a wildcat quarterback, maybe at slot receiver and even tailback.
Lambert said he has been working hard in the offseason, in the meantime, to improve his speed and quickness to be able to run the read-option formations that Fairchild likes to employ.
"I've tried my hardest to bulk up a little bit, get a little bit faster, quicker on my feet in the offseason. I know the perceptions out there, but I like to run the ball a little bit," Lambert said.
– Column by Chris Graham