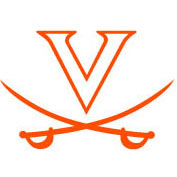 Virginia men's head basketball coach Tony Bennett announced on Friday (May 4) that Anthony Gill and Taylor Barnette are joining the Cavaliers' program.
Gill, a 6-8 forward from Charlotte, N.C., has signed a grant-in-aid agreement and is transferring to Virginia. He attended the University of South Carolina and played as a freshman for the Gamecocks during the 2011-12 season.
Barnette, a 6-3 guard from Nicholasville, Ky., has also signed a grant-in-aid agreement. He played at Lexington Christian Academy last season as a high school senior and his sister, Sarah Beth, is a member of the UVa women's basketball program.
"We are excited to have Anthony and Taylor join the UVa basketball family," Bennett said. "They bring qualities both on and off the court that will help advance this program."
Gill played in all 31 games for South Carolina this past season and started 26 games. He averaged 7.6 points, 4.7 rebounds and 25.3 minutes played a game in 2011-12. Gill shot 45.3 percent (86-190) from the field, including 39.3 percent (11-28) from three-point range, and 64.6 percent (53-82) from the free-throw line. He scored in double figures in 10 games.
Gill is a graduate of Charlotte Christian School where he was a high school teammate of Virginia forward Akil Mitchell. He averaged 19.3 points, nine rebounds and two assists a game as a senior at Charlotte Christian School in 2010-11. As a junior he averaged 18 points, eight rebounds and two blocked shots a game.
Gill earned North Carolina Independent School Athletic Association All-State and All-Conference honors during his high school career. Scout.com and ESPN.com rated him a Top 100 Recruit.
Due to NCAA transfer rules, Gill will be able to practice with the team but not play in games for Virginia during the 2012-13 season. He will have three years of eligibility remaining beginning with the 2013-14 season.
Barnette averaged 19.1 points, 6.1 rebounds and 3.3 assists a game at Lexington Christian during the 2011-12 season. He made 46.5 percent (101-217) of his shots from the field, including 36.1 percent (35-97) from three-point range, and shot 79.4 percent (50-63) from the free-throw line. Barnette was a second-team All-State selection and also earned All-Region and first-team All-City honors. He played in just 15 games because of injury.
As a junior at Lexington Christian, Barnette averaged 17.4 points, 5.9 rebounds and 2.5 assists a game. He earned All-Region honors and was a first-team All-City selection.
Barnette averaged 17.0 points and 6.4 rebounds a game as a sophomore.