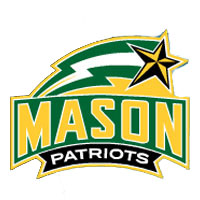 Playing on neutral ground, the George Mason men's basketball team raced out with an early lead in the Blue Cross Arena, but could not hold on, dropping a 75-55 decision to St. Bonaventure in Rochester Wednesday night.
Shevon Thompson led Mason offensively with 18 points, but was held to four rebounds as SBU won the rebounding battle, 41-28. Corey Edwards led Mason on the boards with a career-high nine rebounds. Patrick Holloway added nine points as did Jalen Jenkins. The Patriots shot 38.0 percent from the field (19-50).
St. Bonaventure was led by Youssou Ndoye with a game and career-high 28 points on the evening. Ndoye posted a double-double behind 13 rebounds and was 10-for-11 from the charity stripe. Marcus Posley added 22 points for the Bonnies who shot 41.8 percent for the game and went 23-for-30 from the free throw line. Jaylen Adams finished with seven points and six assists.
Mason opened the contest with a 6-0 run and pulled to a 12-4 advantage on a dunk from Shevon Thompson at the 14:37 mark. The lead was short-lived however as the Bonnies used a 12-2 run to climb back and take the lead 16-14 following a three-pointer from Marcus Posley at the 12 minute mark.
Thompson would tie the game at the free throw line following the media break, but St. Bonaventure pulled in front thereafter and never relinquished the lead. SBU led by 16 at the halftime break, 38-22, and pulled out to a 21-point advantage with less than 10 minutes in the second half. SBU led by as many as 28 in the contest.
Mason returns to action on Saturday at George Washington as part of the Revolutionary Rivalry. The game is set to tip at 4:30 p.m. on NBC Sports Network.