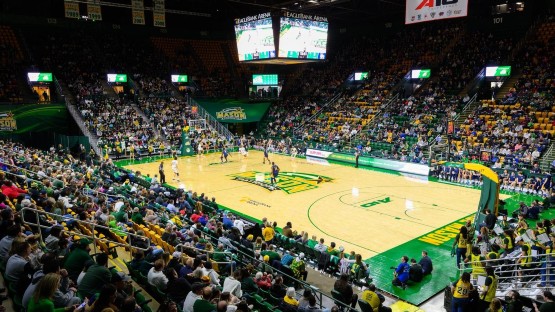 George Mason basketball coach Kim English has taken the head coaching job at Providence, replacing Ed Cooley, who left Providence for Big East rival Georgetown earlier this week.
The move by English, 34, who was 34-29 in two seasons at Mason, including 20-13 in 2022-2023, is a tag, you're it moment for the Fairfax school, which announced today that it has begun a national search for a new head coach.
"We are moving quickly and looking nationwide to identify our next men's head basketball coach, and we expect to have an announcement soon," George Mason President Gregory Washington said. "While I am disappointed that Coach English did not accept our offer to retain him, I wish him continued success at Providence. Coach English and his team brought the excitement back to George Mason basketball. They reminded Mason Nation and the college sports world of our basketball program's heritage and massive potential."
The George Mason program famously made it to the Final Four in 2006 under Jim Larranaga, who also led Mason to a Sweet 16 in 2011 before leaving to take the job at Miami.
His successor, Paul Hewitt, was 23-8 in 2011-2012 and 22-16 in 2012-2013, but was fired in 2015 after back-to-back 20-loss seasons, and then his replacement, Dave Paulsen, was let go after leading Mason to a 95-91 record in six seasons.
The school's athletics program is in major flux right now with the basketball opening and the ongoing search for an athletics director. Washington said Thursday that the search for a new AD is being accelerated and should be completed in the coming weeks.
It would seem that, ideally, Mason would want a new AD in place so that the new hire could make the call on a new basketball coach.
The men's basketball program is the highest-profile athletics program at George Mason, which does not field a football team.