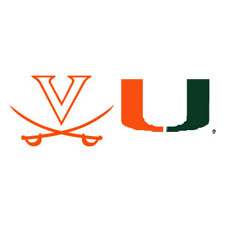 Top-ranked Virginia (23-2, 12-1 ACC) hasn't had to pick itself up off the canvas in a while, so it will be interesting to see how the Cavaliers respond on Tuesday on the road at Miami (18-6, 7-5 ACC).
The UVA team is, in a word, tired. Backcourt starters Kyle Guy, Ty Jerome and Devon Hall have played 89.4 percent of the perimeter minutes over the past five games.
And it has showed, as Guy (33.7 percent), Jerome (40 percent) and Hall (42 percent) have all seen their shooting numbers decline, as was evident in Virginia's 61-60 overtime loss to Virginia Tech on Saturday, when the 'Hoos shot just 34.4 percent.
Miami is coming off a weekend loss as well, a 72-70 setback at Boston College on Saturday. The Hurricanes had won five of six before the loss at BC, adjusting well to the loss of guard Bruce Brown (11.4 ppg, 41.5% FG) to mid-season surgery.
Coach Jim Larranaga will still use an eight-man rotation. Dewan Huell, a 6'11" center, is the leading scorer, on paper (12.3 ppg, 58.6% FG), but he has been struggling a bit of late, scoring just 6.8 points per game on 46.2 percent shooting over the past five games.
Freshman guard Lonnie Walker IV (11.3 ppg, 41.9% FG) has been a revelation, averaging a team-best 16.7 points per game over Miami's last nine games,
The 'Canes rank 17th nationally in defensive efficiency (0.959 points/possession), but have been just eighth in the conference in ACC games (1.053), reflecting the absence of Brown, whose 94.3 defensive rating is 11th in the ACC.
Miami would seem to be in a good spot in terms of its NCAA Tournament resume, sitting at 24th in the RPI as of Monday morning, but the schedule down the stretch is tough, with all six of its remaining games against teams either in the mix for NCAA bids (Notre Dame, Boston College), on either side of the tourney bubble (Syracuse, Virginia Tech) or are tourney locks (UVA, North Carolina).
Basically, there is little room for hiccups down the stretch.
Keys to the Game: Virginia
Continuity: Coach Tony Bennett has been reluctant to go to his bench of late, using just one backup guard, Nigel Johnson, for just five minutes in the overtime loss to Virginia Tech. Bennett is going to need to develop a sense of trust with Johnson and Marco Anthony to keep Guy, Jerome and Hall fresh down the stretch of games and down the stretch of this 2017-2018 season.
Attack: It will be interesting to see if Larranaga uses the blueprint from Virginia Tech coach Buzz Williams that fueled the Hokies upset, which had Tech packing the lane to disrupt the rhythm of the UVA motion offense. UVA ended up settling for threes, hoisting 38 shots from behind the arc of its 61 overall shots. Jerome and Guy are adept at breaking down their man off the dribble. A counter to packing the lane is spreading the floor and using dribble-drives to break the defense down.
Get that chip back on the shoulder: A long winning streak will make you forget the sting of what it feels like to lose. It can be good to wake up hungry.
Story by Chris Graham