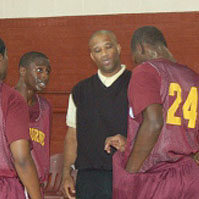 A new season brings Fishburne Military School postgrad basketball coach Ed Huckaby a whole new roster. That's just the way it goes in postgrad basketball, where everybody is a one-and-done with eyes to the next destination.
Huckaby looks to build on the most successful season in the brief four-year history of the PG program at Fishburne, which saw the Caissons qualify for the 2013 National Prep Championships, where they lost in the national quarterfinals in overtime to eventual national champion Northfield-Mount Hermon.
"I still say this. We had the best team in the country last year. We just had some key injuries. Kuran Iverson played injured the second half of the season. He fought through it. But Northfield Mount Hermon deserved the national championship. They earned it, and I respect that. I feel like they had to beat the best team in the country in us to get there, so hats off to them," Huckaby said.
The 2013-2014 edition of the Caissons could be the best ever, led by 6'11" center Jabari Craig, a native of Toronto who is being recruited by the likes of Georgia Tech, Arizona, Florida State and Clemson, and 5'4" point guard J.J. Epps, who despite his diminutive size has the interest of several D1 programs, including George Washington.
"We're going to be back in the hunt this year. No question about that. We're going to be back in the hunt," Huckaby said.
More on Fishburne Military School online at www.Fishburne.org.