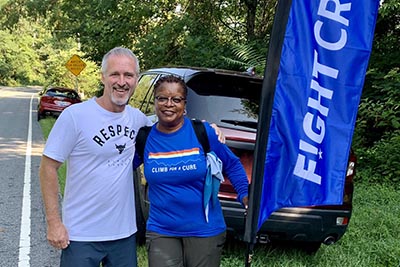 Cancer survivor Dwayne Coleman and other area advocates plan to hike a 3.6-mile, out-and-back trail near Tyro on August 6 as part of a national event, Climb for a Cure, hosted by the national advocacy organization Fight Colorectal Cancer (Fight CRC).
Proceeds from the event will support breakthrough research endeavors such as Fight CRC's Path to a Cure, a plan to bring attention to CRC.
Coleman was diagnosed with stage III colorectal cancer at age 55 in December 2020 and is hosting one of the 11 community climbs. Coleman says he is motivated to Climb for a Cure not just for himself but for all those affected by this disease.
"My cancer is still very fresh in my mind. Because the cancer surgery and treatments robbed me of my good health for a solid year, I am still struggling to get back in shape," Coleman said. "But despite all that I have been through, I am determined to Climb for a Cure.".
More than 2,000 miles away, Coleman's son, Michael, is hosting a community climb in Bozeman, Montana, in honor of his father's cancer fight.
Hiking and spending time outdoors is something they both enjoy doing together, and even though they live across the country now, hosting community events as part of Climb for a Cure is one way they stay connected.
Fight CRC, a national nonprofit organization, has been hosting Climb for a Cure for seven years. Started in 2016 by four Fight CRC advocates, Climb for a Cure inspires cancer survivors to push themselves physically and mentally as there is no greater challenge than fighting cancer.
In 2022, participants are taking part through a climb location near them or by creating their own climb.
Learn more about Climb for a Cure at FightCRC.org/Climb.