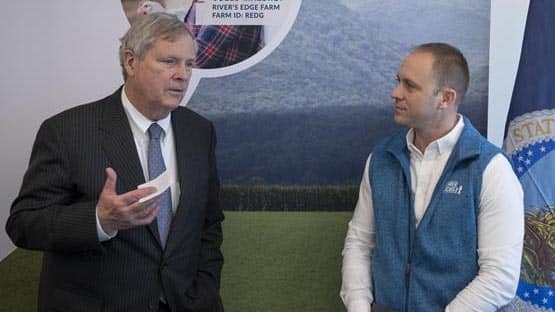 The Harrisonburg-based Farmer Focus is looking to double its processing capacity in the next two years, and a USDA grant will support the $17.8 million expansion.
Farmer Focus received a $3.6 million grant from the USDA's Meat and Poultry Processing Expansion Program, or MPPEP.
Farm Focus said the investment will enable them to welcome more family farmers into its farming family and will create more than 300 new jobs for residents in Harrisonburg and Rockingham County.
The expansion is planned at their existing organic chicken processing facility in Harrisonburg.
"The programs and money the Biden-Harris administration is committing can make a huge difference in providing opportunities to independent processors like Farmer Focus so we can build a more competitive meat industry and strong generational family farms while providing our consumers with the highest quality organic and humane certified chicken," said Corwin Heatwole, founding farmer and chief executive officer of Farmer Focus. "Just a little over a year ago, I was invited to a White House Round Table where I had the unique opportunity to share my thoughts directly with President Biden and Secretary Vilsack on ways to increase competition within the meat industry. The MPPEP proves that our leaders in Washington are listening closely to the farming community and are following through on their commitment to improve the lives and livelihood of America's farmers and the resiliency of our food system."
The USDA MPPEP is part of a series of financial assistance tools created to support the Biden-Harris Administration's Action Plan for a fairer, more competitive, and more resilient meat and poultry supply chain, which dedicates resources to expand independent processing capacity.
The MPPEP grants are designed to give independent farmers a fair chance to compete in the marketplace. The MPPEP's aim is to increase meat and poultry processing capacity, expand market opportunities for farmers, and create jobs in rural areas, which in turn encourages competition and supports producer income. The result is a resilient food supply chain that lowers costs for working families creating jobs and economic opportunities in rural areas.
"The Biden-Harris Administration and USDA are taking action to advance a sustainable vision of agriculture that prioritizes the needs of our resilient producers and small businesses, strengthens our food supply chain and brings value back to rural people and places," said Agriculture Secretary Tom Vilsack. "Through investments like this one, USDA will continue to work tirelessly to give farmers and ranchers a fair chance to compete in the marketplace, which in turn helps lower food costs for the American people."
With its recent retail expansion, Farmer Focus is now distributed in more than 4,000 stores including Publix, Kroger, Harris Teeter and Safeway.
Founded by sixth-generation farmer Corwin Heatwole in 2014, Farmer Focus is the only 100 percent USDA organic and humane certified chicken company with a mission to promote and protect generational family farms.