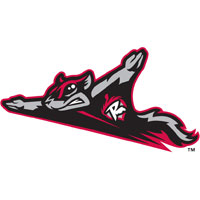 The Erie SeaWolves (53-55) handled the Richmond Flying Squirrels (64-44), 6-2, on Sunday afternoon at Jerry Uht Park.  Erie grabbed the series with the win, sending the Squirrels to just their second Sunday loss (15-2) of the season.
The SeaWolves got off to a quick start against left-hander Jack Snodgrass.  Devon Travis started trouble in the first inning when be sent a one-out single back through the middle.  An out later, Steven Moya followed the same path with a single to put runners at the corners.  Moya stole second base and Ramon Cabrera then lined a soft-single into left field to plate both runners for a 2-0 lead.
Snodgrass settled in through the fifth inning, but Erie got back after him in the sixth.  Travis led off the inning and cranked a triple through the alley in right-center field.  Corey Jones followed and lifted a shallow-fly ball to left field.  Devin Harris couldn't get to it, and it turned into a triple as well.  Travis scored to make it 3-0.  An out later, Cabrera lifted a sacrifice-fly to right field for a  4-0 advantage.
Meanwhile, lefty Kyle Ryan (7-10) was cruising through seven scoreless innings to earn the win.  He allowed the Squirrels just four hits – all singles – and walked just one.  He struck out four as he beat Richmond for the first time.
Snodgrass (9-4) endured the defeat across seven innings.  He was charged with four earned runs on eight hits.  He walked one and struck out six, lasting at least seven innings for a sixth consecutive start.
Richmond finally broke through for their first run of the day in the eighth inning against right-hander Slade Smith.  Skyler Stromsmoe and Ryan Lollis contributed back-to-back singles to start the inning.  An out later, Tyler Graham lifted a sacrifice-fly to right field to make it 4-1.
Erie responded with two runs off right-hander Hunter Strickland in the bottom of the eighth.  Jason Krizan started the inning with a lead-off single.  Travis followed with his fourth hit of the day, also a single.  An out later, Moya singled to make it 5-1.  Cabrera then knocked in his fourth run of the day with a groundout to second base.
Right-hander Jose Valdez surrendered a solo-home run to Harris in the ninth inning that capped the scoring for the day.  However, he had no further issue, finishing the ballgame.
The Squirrels return to The Diamond to open a three-game series with the Harrisburg Senators (Washington Nationals) on Monday night.  First pitch of the opener is scheduled for 7:05 p.m. as Richmond RHP Clayton Blackburn (3-5, 2.93) will make the start against Harrisburg RHP Brian Dupra (1-4, 5.88).  The Flying Squirrels Pregame Warmup begins at 6:35 p.m. on Sports Radio 910 and SportsRadio910.com.