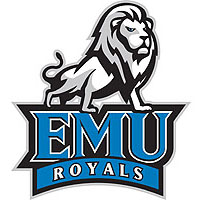 Home soccer game. 7pm under the lights. Double overtime. 1:49 left on the clock. Score tied at 3-3. Foul called. Penalty kick awarded. Who takes the kick? The midfielder with bull's eye precision, Morgan Hill (Martinsville, Va./Carlisle). Her calm, cool and collected demeanor on the turf is what has earned her a spot as this week's Royals Athlete of the Week.
Last week, Morgan accounted for four of the five EMU goals scored in their first home games of the season, including the game-winner in the exhilarating double overtime 4-3 victory against Hood College. The confident junior shook off her nerves after a short injury break to nonchalantly place a PK in the bottom right corner of the net with 1:49 left in double overtime to give the Royals their first win of the year.
"I just made sure I picked a spot and stuck with it and not over think it," Morgan recalled. "I enjoy a little bit of pressure. I like to step up to that challenge."
The crafty midfielder finished with a career high of four points against Hood. She added two assists on Nora Osei's (Springfield, Va./ West Springfield) nearly identical headers, strategically placing her corner kicks in areas making them easy finishes for her teammate. Morgan also had an assist on the Royals' game-tying goal in Wednesday's 1-1 tie with Southern Virginia, setting up Sara Shenk Moreno (Harrisonburg, Va./Harrisonburg) for her first career score.
Last season, Morgan finished second in the ODAC with nine assists. This season the versatile player continues to do big things, as she is tied in two categories for the ODAC lead, with three assists and 1-1 on penalty kicks. She entered the season already in third place in program history with 15 career assists in merely two years.
As the starting center midfielder, Morgan would describe her style of play as "simple." The kinesiology major is very unselfish and uses her intrinsic motivation to help her excel both on the field and in the classroom.
"You've got to put in the effort to get better. I try to get better each and every day," said Morgan. "You practice how you play. So if you don't work hard at practice, how do you expect to work hard in a game?"
The Royals have a new coach this season, Ted Erickson, and Morgan has high hopes of Erickson using his coaching experience to build on the team's talent in hopes of returning to the ODAC Tournament again this fall. While Erickson brought in a different, more possession-oriented style of play with him, Morgan says soccer is still soccer, and she has a strong passion for it no matter what style the team plays.
"I like the competition," she explained. "I enjoy juggling with the ball in my free time. I get excited about combination plays, the whole build up to them, and the way a team works together. Soccer is a beautiful game."