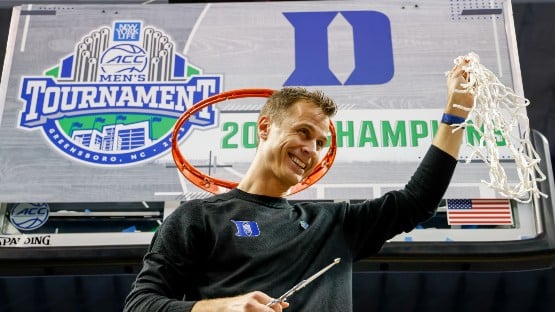 Duke found itself in a familiar place Saturday at Greensboro Coliseum, cutting down nets.
Like it or not, and I don't, you have to give the Blue Devils their due.
No program in league history has won more tournament titles than Duke, now at 22 and counting.
Tonight, Duke led wire-to-wire 59-49 win against second-seeded Virginia, securing their first ACC title since 2019.
After a loss in Charlottesville on Feb. 11th, Duke (26-8) has not lost, on its way to winning the tournament in Greensboro for a ninth time.
Tonight's game was certainly no masterpiece, by either team. Both UVA and Duke struggled to score, both teams playing lockdown defense.
Often we unnecessarily overanalyze, overdissect and overthink why team A won and team B lost.
Tonight, as it was all tourney long, Duke simply had players performing at high levels, such as tourney MVP Kyle Filipowski.
I watched Duke play three times since Thursday, and Filipowski was the best player on the floor in each of Duke's three games.
After a scoreless performance that included five turnovers in Duke's OT loss at Virginia, it was obvious that Duke was determined to not let that happen again.
Filipowski had 11 points and five rebounds in the first half.
For the game, Filipowski had 20 points and 10 rebounds.
The other storyline Saturday was the defense. Not Virginia's, rather, Duke's.
As usual, UVA's defense was sticky, but Duke gave it right back to Virginia.
Jayden Gardner, who was 10-of-15 from the field against Clemson in the semifinals on Friday, had no chance duplicating that against Duke's huge front line, finishing 3-of-9 for seven points.
Filipowski and Dereck Lively were just too much to overcome inside.
For Virginia, the season-ending injury to Ben Vander Plas may have proved costly, as he may have helped stretch the defense a bit.
Not to dwell on Filipowski, but it's just too difficult to ignore what he did for Duke in the tournament.
He made some bad shot decisions on occasions, but he is a great passer, and can cover the floor on defense.
On one sequence in the second half, Filipowski broke the game open when he made a great pass to Proctor for a three-pointer, then followed that with a steal that he took the distance for a dunk.
When Virginia forced Duke into a slower pace, Duke never blinked.
And as we well know, at that pace, a five-point lead is basically a 10-point lead.
Give the Cavaliers credit. Despite the horrendous shooting night, UVA was within four late, but Duke had the answer. and never allowed UVA to get closer.
The big shooters from Virginia finally ran out of steam in the tournament finals.
Now the slate is wiped clean for both Duke and Virginia.
The Blue Devils hope to keep their momentum going, while the Cavaliers regroup and hope that Saturday's effort was just a hiccup.