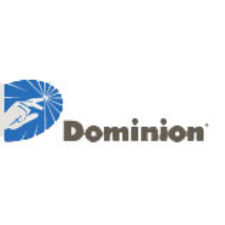 Dominion Resources (NYSE: D) announced Monday operating earnings for the three months ended September 30, 2015, of $611 million ($1.03 per share), compared to operating earnings of $545 million($0.93 per share) for the same period in 2014.  Operating earnings are defined as reported earnings, determined in accordance with Generally Accepted Accounting Principles (GAAP), adjusted for certain items.
Unaudited reported GAAP earnings for the three months ended September 30, 2015, were $593 million ($1.00 per share) compared with earnings of $529 million ($0.90 per share) for the same period in 2014.
Dominion uses operating earnings as the primary performance measurement of its earnings guidance and results for public communications with analysts and investors.  Dominion also uses operating earnings internally for budgeting, for reporting to the Board of Directors, for the company's incentive compensation plans and for its targeted dividend payouts and other purposes. Dominion management believes operating earnings provide a more meaningful representation of the company's fundamental earnings power.
The principal differences between GAAP earnings and operating earnings for the quarter were out-of-period tax-related items for our electric operations.
Business segment results and detailed descriptions of items included in 2015 and 2014 reported earnings but excluded from operating earnings can be found on Schedules 1, 2 and 3 of this release.
Thomas F. Farrell II, chairman, president and chief executive officer, said:
"Our third-quarter operating earnings were in the middle of our guidance range of $0.95 to $1.10 per share.
"We continue to execute with strong operational and safety performance and all major projects in our infrastructure growth plan are on time and on budget.  Construction on Brunswick County, the 1,358-megawatt natural gas combined-cycle facility is about 89 percent complete and scheduled to begin commercial operation in the middle of 2016.
"During the quarter, we made formal FERC filings for the Atlantic Coast Pipeline and Supply Header Project.  We plan to begin construction on both projects in the fourth quarter next year.
"Our Cove Point liquefaction project is also progressing on time and on budget.  The project overall is about 47 percent complete and engineering – at 95 percent – is nearly complete."
THIRD-QUARTER 2015 OPERATING EARNINGS COMPARED TO 2014
The increase in third-quarter 2015 operating earnings per share as compared to third-quarter 2014 operating earnings per share is primarily attributable to a return to normal weather and earnings from farmout transactions offset by normal operating expense growth.
Details of third-quarter 2015 operating earnings as compared to 2014 may be found on Schedule 4 of this release.
FOURTH-QUARTER 2015 OPERATING EARNINGS GUIDANCE
Dominion expects fourth-quarter 2015 operating earnings in the range of 85 cents to 95 cents per share, compared to fourth-quarter 2014 operating earnings of 84 cents per share.  Positive drivers for the fourth quarter of 2015 compared to the same period of the prior year include growth in our regulated gas and electric businesses, higher merchant generation margins, and lower capacity payments offset by lower farmout revenues and share dilution. GAAP earnings for the fourth quarter of 2014 were 42 cents per share.  A reconciliation between operating and GAAP earnings for the fourth quarter of 2014 may be found on Schedule 3 of this release.
In providing its fourth-quarter and full-year 2015 operating earnings guidance, the company notes that there could be differences between expected reported earnings and estimated operating earnings for matters such as, but not limited to, divestitures or changes in accounting principles. At this time, Dominion management is not able to estimate the aggregate impact of these items on reported earnings.