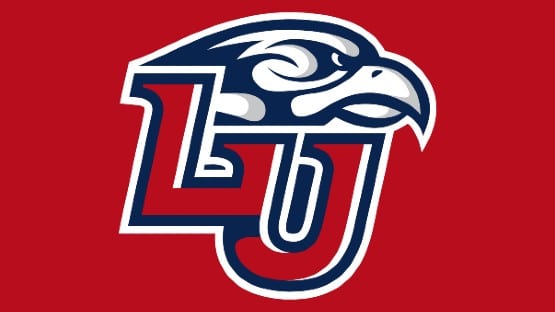 Darius McGhee scored 19 points to become Liberty's all-time leading scorer, but the Flames weren't able to get the W on the big night for the senior, falling 69-64 at Lipscomb on Saturday.
McGhee, who entered the night needing nine points to break Karl Hess' record of 2,373 career points which had stood for 43 years, is now No. 1 in program history with 2,384 points. The record-setting moment came at the 13:18 mark of the second half, as McGhee knocked down a three-pointer from the right wing to break out of a tie with Hess and get to 2,376 career points.
Clinging to a 56-55 lead with under five minutes to play, the Bison (15-10, 7-5 ASUN) scored the next six points in a 43-second span to open up a seven-point advantage, 62-55, with 4:11 to go.
During the quick spurt, Will Pruitt converted on a three-point play, and Jacob Ognacevic knocked down a three-pointer. Following a basket from the Flames' Isiah Warfield, Derrin Boyd hit has fifth and final three of the night at the 3:14 mark to stretch the Lipscomb lead to 65-57.
Liberty (19-6, 10-2 ASUN) clawed back and got within a point with its own 7-0 run over the 2:03, capped off by a pair of free throws from McGhee. After getting a stop on the other end, the Flames had a chance to take the lead, but McGhee's layup with 31 seconds left did not fall.
Pruitt converted a pair of free throws on the other end for a 67-64 lead with 19 seconds remaining. Liberty had a chance to tie the game with 11 seconds remaining, but Kyle Rode's three did not fall.
Pruitt made two more free throws with six seconds remaining to preserve the victory for the hosts.
"It was a tough one that Lipscomb certainly earned," Liberty coach Ritchie McKay said. "I think it's really good for us. We're not invincible. When you play games that are both physically tough and adversity is presented to you during the game and you have a chance to respond, our group responded terrifically. I like the looks we got done the stretch. I like that we took care of the ball in the second half way better than the first half."