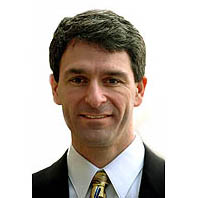 Republican gubernatorial candidate Ken Cuccinelli appears to have undervalued the cost of his stay at a Goochland County mansion owned by Star Scientific CEO Jonnie Williams on his Statement of Economic Interests reports to the state.
This from Freedom of Information Act requests made by State Sen. Donald McEachin for records pertaining to Cuccinelli's involvement with Williams, whose dealings with Cuccinelli and Gov. Bob McDonnell have been in the spotlight for several months now.
The value put on the month-long stay at the 9,000-square-foot mansion owned by Williams was listed by Cuccinelli at $27 a day, even as internal emails made public in the FOIA request make clear that Cuccinelli staff themselves questioned using that figure in the report, conceding that Williams would command much more than the $800 monthly rate eventually used in the reporting.
"Ken Cuccinelli's decision to mask the true value of the gifts he received from Jonnie Williams are just the latest examples of his clear pattern of putting his own personal and financial interests ahead of his responsibility to the people of Virginia," said Democratic Party of Virginia spokesman Brian Coy. "While ordinary Virginians do not have access to 'gifts' from rich patrons like free, month-long stays in 9,000 square foot mansions, Ken Cuccinelli had no problem leveraging his office to secure one for himself.
"It's time for Ken Cuccinelli to come clean on the circumstances surrounding his stay at Jonnie Williams' mansion and why Virginians just can't trust him to put their best interests ahead of his personal and political agenda," Coy said.
"The revelation that Ken Cuccinelli undervalued the gifts he received from Star Scientific's CEO continues a trend of him attempting to hide the extent of this scandal from Virginians," said Rachel Thomas, spokesperson for the Terry McAuliffe gubernatorial campaign.  "As Attorney General, Cuccinelli has consistently shown that he is willing to put his own personal financial interest before the ethical standards that Virginians expect."